It's no secret that workplace satisfaction is important. To foster engagement and establish a positive work environment, any organization can (and should) establish employee engagement programs. These types of programs seek to reward hard workers and motivate peers to strive for greatness.
However, administrating recognition initiatives can be timely. That's why we recommend turning to an employee recognition platform.
Recognition and rewards tools allow you to reinforce hard work and inspire everyone to contribute to a positive company culture. Leveraging a dedicated tool helps make your feedback more consistent, measurable, and strategic. Plus, some even allow you to send rewards alongside your words of encouragement, offering a tangible token of appreciation.
To help you locate the perfect employee recognition software for your organization, we've curated a list of some of the best platforms for 2023. We'll also walk you through the basics of these platforms, so you know exactly what to look for in your search. Here's what this guide will cover:
Whether you work at a small nonprofit or an enterprise-level corporation, there's something on this list for everyone. The right platform can empower your employees to be the absolute best they can be in the workplace. Let's dive into the essentials of these tools.


Employee Recognition Platform FAQ
Before sharing our favorite software, we thought it'd be helpful to cover the basics of these platforms. Whether you're curious about what employee recognition software does or why you should use it, we'll answer your questions below!
What Are Employee Recognition Platforms?
Employee recognition platforms or software refers to technology-based solutions that help organizations show appreciation for the work their employees do. These platforms provide a platform for managers and peers to recognize and reward employees for exceptional performance, milestones, and achievements.
Common features typically include peer-to-peer recognition capabilities, manager-to-employee recognition, rewards tracking, and performance metrics. The goal of these tools is to streamline the employee recognition process, boost employee satisfaction, and improve company culture by encouraging teams to recognize individuals' workplace contributions.
Who Uses Employee Recognition Software?
Any organization can use it — whether you're running a for-profit or nonprofit. Once you invest in an employee recognition platform, your organization's HR department, leadership, and even employees can use it to call out exceptional employees.
This type of software is perfect for any organization looking to implement engagement programs and boost retention.
Why Should You Use Employee Recognition Platforms?
You want your employees to feel valued. Otherwise, they won't feel compelled to stick around.
In fact, employee retention research has found that when employees don't feel valued, 76% will look for another job opportunity. If you work in HR, you know that turnover costs employers a lot of money. It costs an average of 33% of an employee's salary for their exit. Not only does turnover come with a hefty pricetag, but it also reflects poorly on your company if you have a high turnover rate.
An effective employee recognition platform that caters to your employees' motivations can alleviate those concerns substantially. Here's a quick rundown of why you should leverage employee recognition software:
From retention to recruitment, fostering a positive environment through the right software can have an incredible impact on any organization!

Overall Best Employee Recognition Platform
Without further ado, let's dive into the best employee recognition software of 2023. While there's plenty of great software out there, one of them takes the cake due to its creativity, versatility, and ease of use.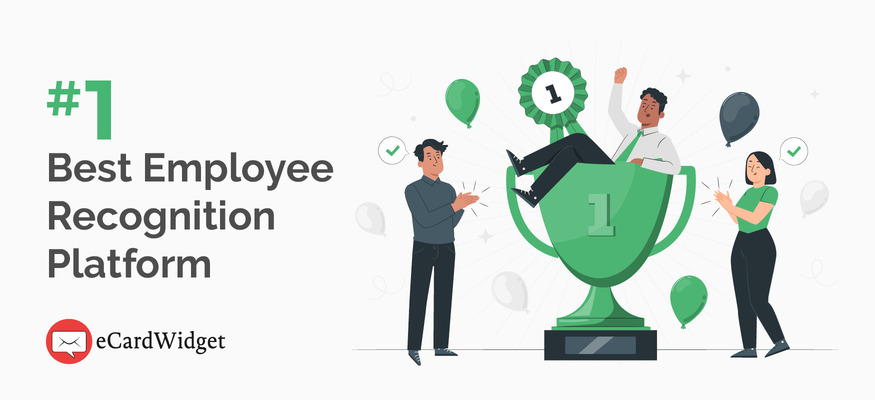 1. eCardWidget
If you're looking for a creative way to recognize employees, look no further than eCardWidget! This innovative platform empowers you to create custom eCards that showcase your organization's branding and values. Easily design eCards to showcase your company values or congratulate someone on a job well done.
To launch your employee recognition cards, create designs that infuse your organization's branding, sort them by company value (or other internal goals), and share your collection with employees. Whenever someone goes above and beyond, their manager or peer can select one of the eCards, draft a quick recognition note, and send it directly to their inbox. As a tip, the personalized message is a great spot for attaching rewards like digital gift cards.
Landing the #1 spot as our favorite employee recognition platform, eCardWidget allows you to show employees they're more than just a number. Check out the video below for a rundown on how it works:
https://www.youtube.com/watch?v=Ycn20txA4gs
eCardWidget's Standout Features
Drag-and-drop design tools that allow you to upload your own graphics, choose from an array of fonts, and match your color scheme
Intuitive sending capabilities so anyone at your organization can recognize their coworkers, whether they're managers or peers
An incredible list of integrations which means you can seamlessly embed your eCards into any website or intranet like your internal company portal
Why eCardWidget Is Our Favorite Employee Recognition Software
If you want to get creative with your employee recognition, eCardWidget is the solution for you! Everyone loves receiving greeting cards, and bringing them into the workplace can be a creative way to supercharge morale.
eCardWidget's Pricing: eCardWidget includes options for every size organization. They range from free plans to Enterprise Options ($200 per month) to best fit your team's size and internal recognition goals. Visit their pricing page for more information.

Employee Recognition Platforms for Small Organizations
If you lead a small organization, we've got some great, small-scale employee recognition platforms you can use. Whether you're looking to solicit feedback or strictly give pats on the back, these engagement tools can be a huge help in streamlining your recognition efforts.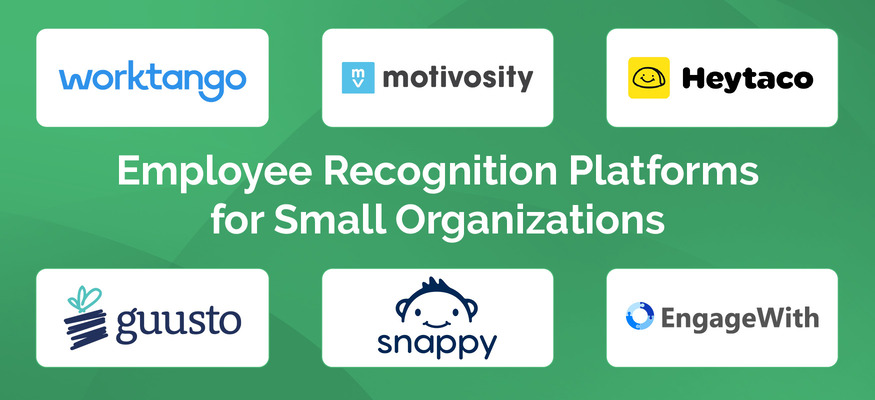 2. WorkTango
WorkTango is an employee feedback and recognition platform that helps organizations gather employee feedback and shine a light on employees' standout efforts. It makes continuous appreciation, feedback, and growth a regular part of your routine instead of restricting it to annual performance reviews.
Trusted by more than 1,000 organizations, WorkTango empowers employees to recognize their colleagues and leaders to reward their hardworking directs. Say thank you in a million different ways whether you want to launch employee awards or post appreciation to your company recognition feed.
WorkTango's Features
Thousands of at-cost, zero-cost, and experiential rewards like gift cards and products from popular brands like Amazon
A real-time employee recognition feed to drive morale across the organization
Nominations and awards tools so employees can vote for their peers for awards when they showcase company values
WorkTango's Pricing: Schedule a demo with the WorkTango team to get pricing details and learn whether their solution fits your organization's budget.
3. Motivosity
Motivosity is an employee recognition platform that aspires to foster positive work culture and build strong relationships among employees. It provides features such as employee feedback and social recognition.
Using the platform, employees can call attention to their colleagues' contributions and share feedback. We love this platform since it encourages regular interactions and establishes a sense of community and collaboration. Thanks to its gamification-style framework, enhancing employee morale, strengthening relationships, and creating a productive workforce have never been more fun.
Motivosity's Features
Public appreciation capabilities through a social-media-style interface
Customizable rewards including hundreds of gift cards, local offers, and branded swag
Custom awards and badges to incite some friendly competition across your organization
Motivosity's Pricing: Contact Motivosity to get a custom quote based on your team's size and employee recognition needs. They also promise a 6-month money-back guarantee.
4. HeyTaco
HeyTaco is a unique employee recognition platform designed to promote an appreciative and vibrant workplace culture. It uses a gamified approach to encourage peer-to-peer recognition and appreciation within teams.
Employees can send virtual "tacos" to colleagues as a way to shout out their achievements and helpful contributions. These tacos accumulate, creating a fun visual representation of employees' contributions. There's never been a more simple yet fun way to establish camaraderie and boost employee morale!
HeyTaco's Features
Social peer-to-peer recognition with leaderboards that incite friendly competition
Custom-tailored rewards that team members can trade tacos for, like a taco trophy, taco dinners, company swag, and more
Integrations with popular tools like Slack and Microsoft Teams
HeyTaco's Pricing: Try the platform for free for 30 days. If you like what you see, you'll pay $3 per person per month. You can either pay for select employees or automatically add people whenever they give or receive their first taco.
5. Guusto
Rated as a top employee recognition software on G2 and Capterra, Guusto enables leaders to shape an enjoyable culture through real-time recognition programs and service awards.
Ideal for smaller workforces, Guusto allows organizations to build programs for recognizing any employee, whether they're on the store floor, in the field, or at a desk. Easily recognize and reward employees by sending digital gift cards. With Guusto, employers can choose from a wide array of options to suit individuals' preferences and even customize gift cards with personalized messages. Then, recipients can conveniently redeem their digital gift cards online or through the Guusto mobile app.
Guusto aims to make employee recognition easy, thoughtful, and rewarding, fostering a positive work environment and enhancing employee engagement. Not to mention, Guusto exercises corporate social responsibility by partnering with the One Drop Foundation. For every gift sent, they'll donate one day of clean drinking water.
Guusto's Features
Reward-sharing capabilities via a pay-forward feature that empowers recipients to pass a gift to someone else
Shoutout features for impactful non-monetary recognition
Actionable reports for tracking any recognition sent, taxable benefits, and core value performance
Guusto's Pricing: Choose from three pricing plans for this employee recognition platform. Use the Free plan for a single-user account, the Essential plan for up to 35 team members for $80 per month, or the Premium plan for 100 team members for $350 per month. They also have custom enterprise plans. Note that these fees are based on annual plans. Prices vary if you pay on a monthly basis.
6. Snappy
Snappy is an all-in-one gifting platform that combines personal gifting experiences with advanced technology. Great for both customer and employee recognition, Snappy helps organizations show appreciation, spread smiles, and boost loyalty in one fell swoop.
Employers can send digital gift cards, physical gifts, or even experiential gifts to showcase gratitude. Offer gift recipients a collection of trending products, unique experiences, subscriptions, and charitable donations. Then, recipients can choose their preferred gift from the curated selection you send.
The platform makes it easy to create memorable and meaningful moments of recognition that make employees feel valued.
Snappy's Features
Tracking statuses to see which gifts recipients pick
Various gift collections that include gift cards, experiences, sweets, snacks, and donation options
The ability to add personal greetings to make a reward extra meaningful
Snappy's Pricing: Snappy offers three pricing plans. With the Essential plan, teams and small businesses only pay for claimed gifts. With the Elevated Plan, larger organizations pay $999 per year. For the Enterprise plan, large enterprises need to reach out for a custom quote.
7. EngageWith
EngageWith helps organizations celebrate any employee win, whether it's big or small! Built for Slack and Microsoft Teams, the platform makes it easy to keep all of your systems updated.
Acknowledge coworkers publicly using your preferred channel. Be sure to encourage employees to tag each recognition with a company value! Then, employees can redeem points they acquire through recognition on preferred sites like Nike, Domino's, Apple, Dunkin Donuts, and more.
EngageWith's Features
Dynamic leaderboards that rank individuals based on appreciation sent and received
Birthday and work anniversary reminders to recognize people on their special days
Other employee engagement features like pulse surveys and anonymous feedback capabilities
EngageWith's Pricing: Either choose the Standard plan for $4 per user per month or reach out for a custom quote if you'll have more than 500 users. They also offer a 30-day free trial, so you know what you're getting with this employee recognition software.
8. Compt
Dubbed as a top perk stipend software, Compt is an all-in-one reimbursement platform that enables organizations to offer personalized, flexible compensation and benefits programs. Use the platform's reward and recognition features to send employee bonuses and make recognition easy and meaningful.
Make your employees feel seen, heard, and valued throughout the year with birthday bonuses, sales incentives, spot bonus recognition, and more.
Compt's Features
Instant rewards that only take a few minutes to set up and send
Automated IRS compliance to ensure employees are taxed correctly for rewards and bonuses
Slack integration to help your team celebrate accomplishments together
Compt's Pricing: Request pricing from their team.

Employee Recognition Software for Mid-Sized Organizations
If you work at a mid-sized organization, you need a more robust solution for employee recognition. From saying thanks to offering employee gifts, the following platforms are great options for powering your workplace engagement initiatives.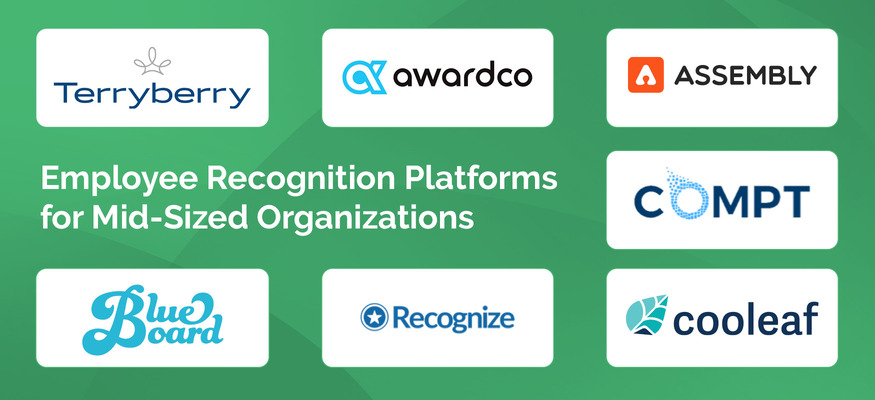 9. Terryberry
Terryberry is an employee recognition platform that aims to ignite workplace success. With its social recognition approach, Terryberry provides a centralized system for implementing and tracking recognition activities, empowering organizations to celebrate achievements and boost morale.
It also offers a wide array of reward options that are sure to delight employees. With thousands of merchandise, travel, experience, and charitable donation options to choose from, you'll encourage employees to be their best selves in the workplace.
Terryberry's Features
Plug-and-play modules so you only pay for the recognition tools you need
Custom milestone and service award programs to celebrate important occasions
Additional employee engagement features like wellness and activity challenges
Terryberry's Pricing: You have three pricing plan options based on the features you want. Request a demo to receive pricing details.
10. Awardco
Designed to make rewarding people easier and more effective, Awardco is a top-rated employee recognition platform. Marketed as a "one-stop-recognition-shop," Awardco is a comprehensive platform that allows you to create custom rewards catalogs personalized to your needs. They also partner with Amazon Business to bring millions of reward choices and lower vendor fees. If needed, they'll work with you to manage multiple recognition programs from one dashboard.
With an emphasis on reporting, Awardco enables organizations to gain in-depth insights into their recognition programs and keep an eye on employee performance. That way, there's never a question of whether your employee engagement efforts are working.
Awardco's Features
A public feed where team members can like, comment, and react to recognition
A user-friendly interface where employees and managers can track rewards and provide feedback
Integrations with communication platforms like Slack to easily fold recognition into your workflow
Awardco's Pricing: Small organizations receive reduced rates and can choose from two pricing plans, starting at $2,500 per year. Organizations with more than 300 employees will need to reach out for custom pricing.
11. Assembly
Trusted by more than 2,400 organizations, Assembly is a top-rated employee recognition platform that helps celebrate workplace achievements. Show people their contributions are valued, so you can retain your best talent with features like rewards, nominations, and work anniversary reminders. Best of all, your staff will never have to leave Slack or Microsoft Teams to use the software.
Assembly's Features
An extensive catalog of awards like gift cards, custom swag, and personalized culture rewards
Integrations with Slack and Microsoft Teams to keep employee recognition where work already happens
Employee nominations to encourage employees to call out their peers for standout performance
Assembly's Pricing: Small teams of fewer than 10 people can use the platform for free. Paid plans start at $2.80 per user per month for up to 50 people when you pay for the year in full. Get an unlimited number of users for $4.50 per user per month. For larger organizations needing a custom program, reach out to Assembly for a custom pricing plan.
12. Blueboard
Built around hand-curated experiences, Blueboard is an incentives platform for organizations. This employee recognition software makes it easy for organizations to reward employees in meaningful ways and give them one-of-a-kind experiences. Choose from memorable experiential rewards like spa days, concerts, plane flying lessons, and bucket-list travel adventures.
Long story short, the platform elevates employee recognition from generic gift cards to experiences your employees will never forget. Whether you're building an anniversary award program, leveling up referral incentives, or reimagining your spot rewards, experiential rewards are a unique way to drive better outcomes.
Blueboard's Features
Anniversary awards to celebrate important moments in each employee's journey
Curated experiential rewards, perfect for spot recognition, referral incentives, sales incentives, onboarding gifts, and more
Program planning guides and budget calculators to help you design a well-thought-out recognition program
Blueboard's Pricing: Due to the level of personalization needed, Blueboard provides custom quotes. Get a demo to receive a personalized pricing plan.
13. Recognize
Recognize is value-driven employee recognition software that offers a range of rewards and gifts. Designed to integrate into your existing workflows, the platform makes enhancing the workplace experience and improving company culture a breeze.
Leverage gamification components to drive community building and tap into peer-to-peer recognition, nominations, incentives, and anniversary reminders. Using the platform, employees can earn and redeem points for spot rewards or accumulate points for a bigger item.
Recognize's Features
Tangible tasks that managers can set up for employees to complete to earn points
Reward catalogs filled with gift cards, experiences, and non-monetary rewards employees redeem with points
Recognition reporting to gain insight into top performers and teams
Recognize's Pricing: Get started with a free trial. Then, choose from different paid plans, starting at $.20 per user per month. Pricing varies based on organization size and selected add-ons.
14. Cooleaf
Connect with your people with Cooleaf, a leading experience platform. Bring your employees together with recognition and virtual activities, making your workplace culture more fulfilling and engaging. Tap into features like automatic work anniversary rewards, and go beyond a thank-you note with fun rewards like merchandise, gift cards, and company swag.
Cooleaf's Features
Peer and manager shoutouts for instant recognition
Public recognition to showcase meaningful stories and exceptional work
Manager dashboards to evaluate trends and help prepare for performance reviews
Cooleaf's Pricing: Contact their team for pricing details and to see this employee recognition platform in action.

Employee Recognition Software for Enterprise Organizations
Large and enterprise organizations often have more complex needs than smaller ones. That goes for workplace engagement and retention, too. We've pulled together a list of scalable solutions that were designed for larger organizations.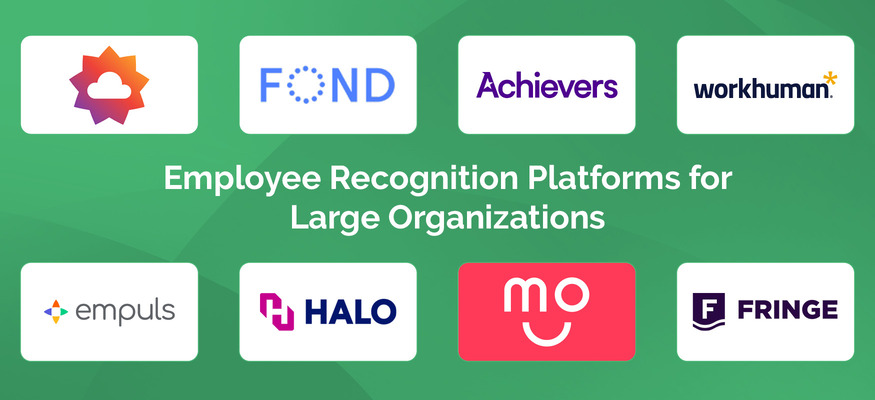 15. Culture Cloud
Designed for enterprise and global workforces, O.C. Tanner's Culture Cloud helps companies design large-scale employee recognition programs with unforgettable experiences. Every feature is backed by academic-grade research, ensuring organizations are equipped to maximize workplace satisfaction.
Whether you want to fuel peer-to-peer recognition or tie points to team goals, Culture Cloud offers plenty of ways to give, receive, and measure recognition.
Culture Cloud's Features
An award store filled with unique experiences and everyday essentials
A points system that you can scale to suit your budget and needs
Yearbooks for team members to rally and honor a coworker's contributions over time
Culture Cloud's Pricing: Contact their team for a custom quote for its employee recognition software.
16. Fond
Created to enhance company culture across global workforces, Fond is straightforward employee recognition software. With it, employees can send points to one another to recognize hard work and major accomplishments.
Employees located around the world can redeem their points for useful rewards and corporate perks on Fond's platform. Best of all, points never expire, and unused points are returned to your company if an employee leaves or is dismissed from their role.
Fond's Features
Globally-redeemable rewards like gift cards and experiences
Customizable rewards and recognition events that embody your organization's values
A mobile app so employees can send or redeem recognition points on-the-go
Fond's Pricing: This employee recognition platform only charges the retail price for each item without markup. There aren't any fulfillment charges or hidden fees either.
17. Achievers
Achievers is a cloud-based employee recognition platform designed to acknowledge your organization's greatest asset: its employees. Drive retention, productivity, and key business outcomes by engaging your workforce, no matter where they are in the world.
Support your employees with best-in-class rewards and inclusive recognition. Achievers works to continuously expand its marketplace catalog with sought-after brands and fulfill reward redemptions across local centers through its reward partner networks. With the ability to support multiple recognition programs, you can reinforce priorities with high-frequency and high-impact recognition.
Achiever's Features
3 million rewards options from 2,500+ global brands in 29+ languages
Flexible, modular recognition tools such as a points-based system, social recognition, or campaigns
Support and functionality in multiple languages and currencies
Achiever's Pricing: Request a demo for pricing information.
18. Workhuman
Workhuman is a leading employee recognition platform that aims to foster a more human workplace. Between peer-to-peer and manager recognition capabilities, employees can celebrate workplace accomplishments and big life events. After all, you want to show your employees you care about them on a personal level.
After being in the employee recognition business for over 20 years, Workhuman empowers organizations around the globe to deepen engagement and boost retention. With this platform, you can even tap into additional engagement tools like real-time feedback and performance management. In no time, you'll foster a culture of appreciation, belonging, and gratitude.
Workhuman's Features
Social recognition so employees can thank anyone in the organization and interact with others to celebrate their awards
Life event and service milestones to celebrate life's big moments
Insights and analytics with real-time recommendations related to how and where work gets done
Workhuman's Pricing: Contact Workhuman for a demo to see the software in action and get pricing details.
19. Empuls
Empuls is employee recognition software that makes it easy to reward your hardworking staff members. From setting up pulse surveys to motivating employees with digital gift cards, the platform comes equipped with everything you need to build an encouraging environment. Best of all, the platform is multilingual, making it easy to implement for your international employees.
Trusted by more than 1,000 organizations, Empuls helps make hard work visible to everyone, celebrate key milestones, promote participation in company initiatives, and reduce HR's time in setting up rewards.
Empuls' Features
Gamification features like activity scores and a leaderboard to encourage participation
Personalized recognition through custom spot awards, monetary rewards, and messaging
An AI-powered engagement bot that gives timely reminders about special occasions like peers' birthdays and work anniversaries
Empuls' Pricing: The Reward and Recognize plan is $3 per employee per month. Take a look at the pricing page to learn about other features' pricing, like surveys, social intranet, and perks.
20. HALO
HALO offers scalable employee recognition and incentive solutions designed to fit your organization's unique culture. Designed to deliver deep personalization, HALO offers comprehensive services like strategic design and program marketing support, giving you a single source for all your employee engagement efforts.
Great for hybrid and remote employee recognition, the platform can be accessed from anywhere. HALO offers a consistent experience for worldwide, remote, hybrid, and offline workforces alike.
HALO's Features
A universal, points-based rewards currency that can be redeemed for gift cards, experiences, and gifts
Regional gift catalogs based on local tastes and customs
In-country fulfillment so you can avoid international shipping costs
HALO's Pricing: Contact their team for pricing details and to get a rundown of the system.
21. Mo
Mo is an employee engagement and recognition platform that enables leaders to improve collaboration, reduce employee churn, and maximize morale. Backed by this software, create a recognition-rich culture by celebrating successes and shining light on those who go above and beyond.
Great for bringing distributed teams together, Mo empowers organizations to celebrate achievements with public and private recognition tools tied to fun GIFs and company values. Recognition can come from anyone, whether you want to give top-down feedback or peer-to-peer acknowledgment. Don't forget about rewarding employees by letting them choose gift cards and custom rewards like organizational swag.
Mo's Features
An extensive rewards catalog filled with meaningful gift options like gift cards from popular brands like Nike, Ticketmaster, and Amazon
Custom company awards like 'most inspirational' or 'best team player' that employees can nominate their peers to receive
Straightforward budget controls and rewards options so you can take charge of employee engagement
Mo's Pricing: Choose from three pricing plans based on your organization's needs. The Starter plan has basic recognition features and is $2.70 per user per month when billed annually. For more advanced recognition features, choose the Level Up plan, which is $4.50 per month per user when you pay annually. For a custom plan, reach out for a custom quote.
22. Fringe
Want to contribute to your employees' lives in meaningful ways? Try out Fringe, the world's first lifestyle benefits marketplace. Rewarding your employees with personalized lifestyle benefits is a fantastic way to show you care. Solidify a culture of well-being by offering unique rewards like financial planning services, student loan repayment, physical fitness, and virtual therapy.
Whether you're acknowledging a 23-year-old intern or a 60-year-old long-term employee, Fringe has rewards for everyone!
Fringe's Features
Lifestyle benefits whether you want to reimburse someone's gym membership or give them la unch stipend
Wellbeing programs to promote health through virtual therapy, meditation apps, life coaching, and more
Peer giving so employees can award coworkers, friends, and family with services or points
Fringe's Pricing: Contact Fringe's team for current pricing plans.

Employee Recognition Platforms: Final Thoughts
You want your employees to stick around and feel valued for their hard work. That means taking the time to develop a thoughtful recognition program and selecting software to support your efforts.
Remember, you want a platform that aligns with your organization's budget and its employees' preferences. Choosing the right employee recognition software can go a long way in boosting retention, so don't skimp through your selection process.
While you narrow down your options, keep learning about fostering a positive work environment by exploring these additional resources: