Tracking how users behave on your website can be hugely helpful to nonprofits in their marketing efforts. The tool of choice for web analytics for many nonprofits is Google Analytics.
Once you've gone through the process of getting Google Analytics set-up on your nonprofit website, new Analytics users and old pros alike can be overwhelmed by the amount of data constantly flowing in.
In order to avoid getting lost in the weeds, it's helpful to have a few starting points for sifting through that raw data to draw actionable insights from website traffic data.
Our first tip is to develop the routine of checking up on a few most useful metrics. Our top three favorites are Traffic Source/Medium, Top Pages and Audience Location.
Traffic Source/Medium
Traffic Source/Medium tells us generally where our site visitors came from on the web (source) and how they found the site, such as through paid advertising, direct links and more (medium).
Nonprofits with a strong SEO presence might see their top traffic source and medium look like this: Google/organic. This means that the largest number of visitors found the site through organic search results. On the other hand, nonprofits that have received the Google Ad Grant might see their top source and medium as Google/PPC. This means that the largest number of visitors found the site through Google search ads.
Other common sources include social media platforms, email marketing platforms or other websites. If there is a traffic source that you're not familiar with that is driving a large amount of traffic to the site, that's a clue it might be a resource worth exploring.
Where to find it: Acquisition -> All Traffic -> Source/Medium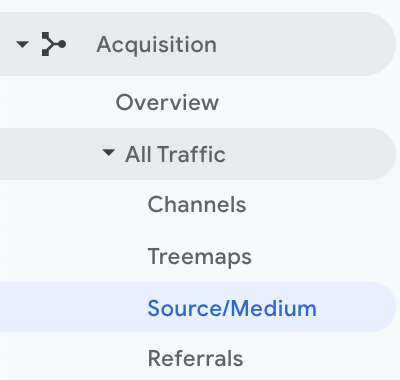 [Alt Text: A screenshot of Google Analytics shows where to locate the Source/Medium metric, in the All Traffic dropdown of the Acquisition section on the Analytics homepage.]
Top Pages
Once you know how people are finding your site and where they're coming from, the next step is to find out which pages they visit. Most nonprofits' homepage is their most-visited page, but oftentimes pages that describe programs and events also receive plenty of traffic.
Knowing which pages are getting the most visits can even help nonprofits plan for the future. If one of your program pages receives significantly more visitors than the others, then you might be able to extrapolate that there is a high need for that service.
Where to find it: Behavior -> Site Content -> All Pages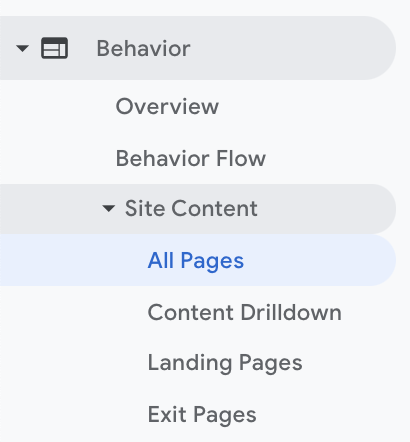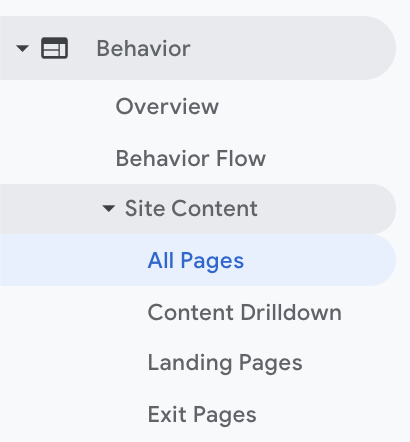 [Alt Text: A screenshot of Google Analytics shows where to locate the Top Pages, on the All Pages menu of the Site Content dropdown of the Behavior section on the Analytics homepage.]
Audience Location
As many nonprofits move services, programs and events online, geographic data about website visitors has become more important than ever for nonprofits.
Some nonprofits are seeing new donors, volunteers and program participants from across the country – even across the world – and many are trying to capitalize on this new engagement. You can use geodata from your donate page as a kind of ad-hoc donation tracking tool, for example, to learn more about where new sources of donations could be.
Just remember that unless you've set up Google Analytics to filter out internal traffic, this data also shows traffic from your staff, too, so it's important to keep an eye out for any agglomerations of traffic as people work from home.
Where to find it: Audience -> Geo -> Location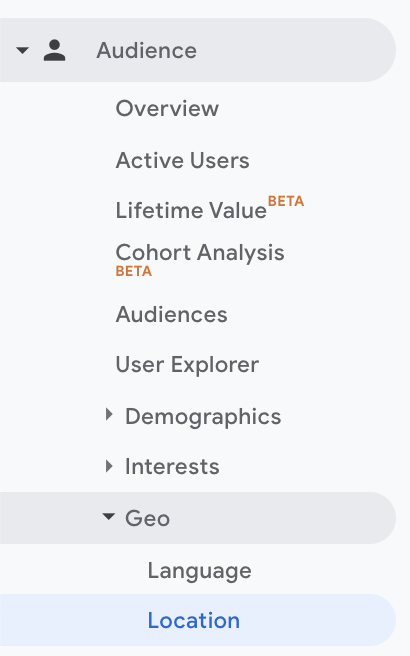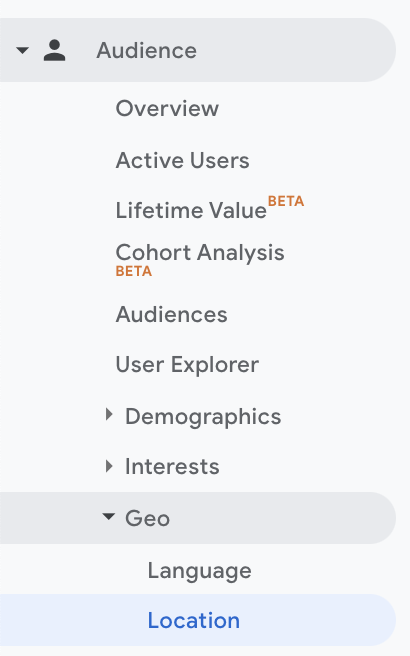 [Alt Text: A screenshot of Google Analytics shows where to locate the Location metric, in the Geo dropdown of the Audience section on the Analytics homepage.]
Set Up Alerts
Even with a routine of checking up on the most important metrics, most people who work in nonprofits have too many hats to wear to be worried about their website traffic 24/7. That's OK!
Google Analytics also has an option to set up alerts to notify you if there is any significant change in website traffic. Access alerts in the "Admin" panel under "View Settings" in the "Personal Tools & Assets" section. There you have the option to set "Custom Alerts."
The first alert we suggest setting up is for sudden and large dips in traffic. If this happens, then you know something is going on with your website and you know to reach out to your website tech support team as soon as possible.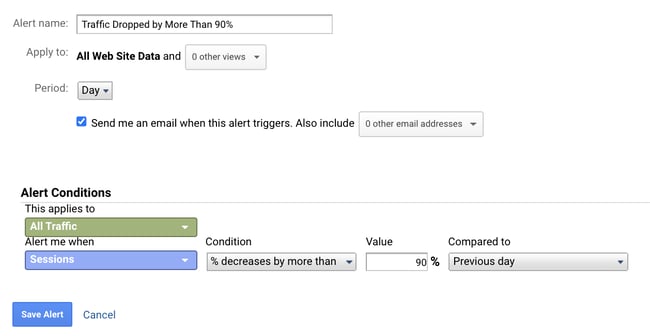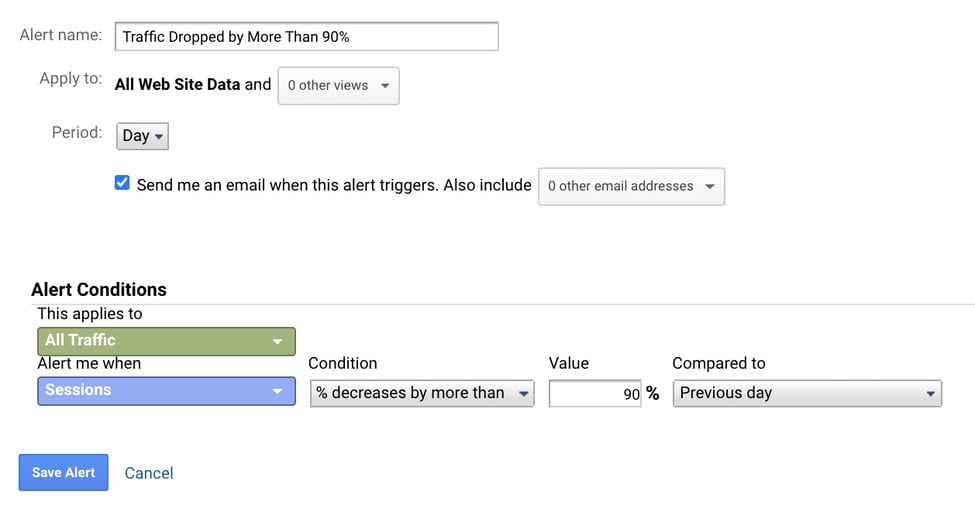 [Alt text: A sample alert for "Traffic Dropped by More Than 90%" utilizes the Alert Conditions: Alert me when Sessions (Condition) % decrease by more than (value) 90% (compared to) Previous day.]
Google Analytics has several built-in tools for setting up "Goals," which you could also think of as conversions, based on certain actions or milestones users meet on your site. Of the goals that you can set up in Analytics, we think nonprofits can benefit most from Duration and Destination goals.
How to Set Up Goals in Google Analytics
To get started, open the "Admin" area of Google Analytics and under the appropriate View settings select "Goals." Then, you'll see a list of the goals you currently have set up. To create a new one, simply select "New Goal."
From there, we suggest nonprofits start out by setting up a Destination Goal for a page on their website that talks about how people can donate or otherwise get involved with the organization's work. This is a great way to improve your donation tracking.
Once you've identified which page that is and have the URL on hand, go to step one of the goal set-up and select "Custom." Then, continue onto step two by giving your goal a description and selecting a slot ID (this can stay as the default).
Then you're onto the last step. For the destination, you should paste just the end part of your page's URL. If you're tracking the donate page from www.yournonprofit.org/donate/, then all you need to do is paste /donate/ and save.
You'll be able to dig into the data about your website's visitors' completion of the goals back on the main screen of Google Analytics in the "Conversions" section, under "Goals," "Overview."
Why Set Up Goals?
Goals are a way to quickly sift through data to get straight to important findings so you can save time in your web analytics strategy, but they also serve another purpose, too.
If your nonprofit is part of Google for Nonprofits and is using the Google Ad Grant to run search ads, then you can import the goals you've set up in Google Analytics into Google Ads and use those for your conversions.
One of the requirements for recipients of the Google Ad Grant after 2018 is that you must have valid conversion tracking set-up and it is highly suggested that you use an automated bid strategy (like "Maximize Conversions"). Importing your Google Analytics goals can help your nonprofit meet both of those requirements and maximize your usage of the Google Ad Grant.
Bonus: Event-Based Goals
Want to take your goals to the next level? For tracking more specific actions on your site, like clicks on a certain button or downloads of a specific resource document, you can set up Google Analytics Events using Google Tag Manager, then mark those specific events as goals.
Although Google Analytics can gather a lot of information about behavior on your website, it's limited to just that: user behavior on your site. We can expand the data Analytics collects by linking it up with other tools, too, like Google Ads (as we mentioned above) and Google Search Console.
It's not just limited to other Google tools, either. Although the flow of information from one tool to another is never perfect, you might be able to find out more about user behavior for other tools you're already using.
Many nonprofits could benefit from learning more about how users interact with event listings, pop-ups, donation softwares, and more. Linking these other tools with Google Analytics can help you visualize and analyze all of this data in one place as part of a larger context.
Web Analytics for Nonprofits in Practice
Let's say your nonprofit has an information session coming up soon for a new program you're about to launch. You've already put the event listing up and shared it around on social media as well as posted it on your website. Your social posts have gotten a lot of reactions and you think the listing on your site is getting a lot of views, but you haven't seen as many sign ups for the event as you were expecting.
You have a hunch that people who see the listing on the website are more likely to sign up than people who click on the listing from social media, but you're not sure how to compare the two. Having all of these tools linked up to Google Analytics can help you answer that question.
You don't have to be a Google Analytics expert to draw helpful conclusions for your nonprofit from your website data. Knowing where to start and setting up Analytics to be a helpful tool rather than one to get lost in will make it just another asset in your nonprofit marketing toolkit.