If you're a nonprofit needing professional services, you'll often be required to create a Request for Proposal (RFP) before hiring a vendor. For a complex project like a website, taking the time to go through the RFP process can be an exercise in fully defining your expectations that prepares your staff for success. It can also help to speed up your project timeline. 
Traditionally, the process of reviewing different bids is meant to find the best proposal at the lowest cost. Some organizations don't officially need an RFP for expenses under a certain amount. Others require consideration of at least three quotes before selecting a vendor. For transparency purposes, you might post your RFP on your website to encourage open competition.
If you're not quite ready to start receiving proposals, you can always send out an RFI (Request for Information). This is basically a preliminary step to help you choose the vendors you ultimately want to receive proposals from. It's like going for a coffee date vs. fielding marriage proposals.
 
What's the difference between an RFP and an RFI?
In an RFI you should describe your organization, the scope of the project, and the proposed timeframe, and also include questions that you'd like potential vendors to answer, like:
Does your firm have experience doing complete website designs for nonprofit clients? For how many nonprofits?
Does your firm have experience creating a content strategy for the websites that you redesign?
Does your firm provide ongoing technical support for the websites that you build?
Will we retain ownership of all of our content and data?
Would we be able to take our website elsewhere if we decide to partner with a different vendor?
Before Starting Your RFP
Your organization is preparing to spend thousands of dollars on an upcoming project, but do you know what you will gain from it? Don't worry about writing an RFP until you do a needs analysis. 
How to get started? Identify existing knowledge gaps between what you know and what you'd like to know or solve. This will help you draft a list of questions that you want to answer. Then review all relevant information regarding each topic. Focus on future goals, and see what you're doing right, and what needs to change. With this information, you can make a decision about what should be done. 
This is a simple needs assessment. You can also conduct stakeholder interviews with organizational donors, volunteers, staff from different departments, and community partners. Any survey findings should be summarized and used to formulate your RFP.
Another way to look at things is through a  SWOT Analysis  (Strengths, Weaknesses, Opportunities, Threats). SWOT is a decision analysis technique. It's usually drawn out into four quadrants and organized under "helpful to achieve" and "harmful to achieve" columns, with rows of internal vs. external factors. A SWOT analysis can be a group activity involving different stakeholders as well.

Who Should Write My RFP?
One of the most difficult decisions to make is who should be put up to the job. Your Communications Director? Operations Manager? Development Director? Or should you hire an outside consultant?
Take into account the time involved to conduct research, draft an RFP, identify potential vendors, field vendors' questions, review proposals, schedule interviews with finalists, and negotiate contract details, plus potentially continuing as the project manager from your team.
Most nonprofits face staffing challenges, and team members often need to wear many hats. Can you afford to have one of your staff spend over a month working part-time hours on the RFP process? Will their unique knowledge of the organization's needs and technical savviness make them an appropriate fit? Or would it be better to hire an external consultant to both write the RFP and coordinate the project through the very end?
Whatever your decision, the success of your project will increase with knowledge of the ins-and-outs of the RFP process and these RFP writing tips.
How Long Should an RFP Be?
If you're going to take the time to go through the RFP process, you should expect at least 4-5 pages for your RFP document to be useful. 
You may also want to include an Appendix section to attach analytics reports, your brand style guide, and any UX research or a sample sitemap you've already prepared.
PRO TIP:
Save your RFP as a PDF and label it RFP-[ORGANIZATION_NAME]-[DATE] in case of future edits. It's always embarrassing when you send out an old RFP with the wrong timeframe dates!
How Should I Format My RFP?
The below components encompass the most important things vendors care about, but they should also allow you to have fun and build excitement for your project. The point is for you to describe all the ways the vendor can elevate your nonprofit's mission with an awesome website. 
Not every one of these items has to be presented in this way or in this order. If you prefer to keep it simple, use each of the below
headings as a different section of your RFP. Or just download our web design RFP template.
Scope a.k.a. Purpose
The "what and why". Don't just state what you want the provider to do; also state why. Articulate the problem that is motivating the project as best you can. If it's a redesign, what about the current version isn't working? This will allow providers to innovate and suggest solutions your team might not have thought of. Stay high-level and keep it to two sentences max.
Main Contacts
Many RFPs leave the contact details until the very end of the document. This is a mistake. 
You should list the full name, job title, preferred contact method (email, phone number), and role in the project (main point of contact, content writer, final decision maker, etc.) for the contacts involved. 
Your team might not know who exactly will be involved, and in what capacity, when you're writing your RFP. In this case, don't stress: you're in the same boat as many other nonprofits trying to thrive with limited human resources. Rather than seeing this as a weakness, being honest with potential vendors that you have few hands on deck can help them tailor their services to better fit your needs.
Timeframe
Time seems to work differently for nonprofits. When you have limited resources and rely on the success of fundraising campaigns, tasks can take a backseat to other priorities for weeks or months. 
If your organization's staff has previous experience with web projects, then they'll understand that it's more important to do things right rather than get them done quickly. Oftentimes, management may pick an arbitrary date for completion that doesn't take into account project methodology or your staff's available time to work on the project.
Here's what we advise as the best approach to defining your project's timeframe:
Pick either a 2-3 week window or a specific date (usually for an event or board meeting) for the launch of your website. 
Define a reasonable deadline for when vendors must respond to your RFP, once you've created and sent it. 
Allow yourself at least 30-45 days after the RFP deadline to select a vendor and negotiate the final contract. 
The time between the day you sign the contract (#3) and your desired launch date (#1) is the amount of time you are allotting for your vendor and your staff to work on the project.
Consider whether your allotted project timeframe is realistic given your project needs. Projects with more advanced technical requirements (such as membership management, e-commerce, database integrations, user-authenticated portals, online learning, etc.) will require more labor. 
While you can set dates for your timeframe like the example below, vendors will feel more comfortable if you say that you're open to their timeframe suggestions as well. You may even get feedback from multiple vendors that they are not interested in submitting a proposal based on your proposed timeframe.
PRO TIP: CONSOLIDATED ANSWERS
Depending on how many vendors you contact, it can be overwhelming to individually address each email or phone call, and you'll probably find that many vendors ask you the same thing. That's why you can stipulate that you will respond to only the most critical questions by sending all vendors that participate in the Q&A process a set of consolidated answers in a single email.. This gives you time to focus on internal conversations sparked by vendor queries, or to consult with more tech-savvy stakeholders for technical issues.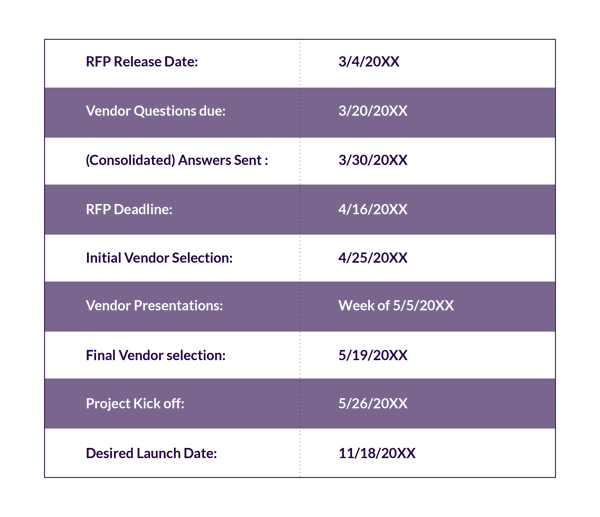 Managing the Q&A Period
Communication is a two-way-street, so every conversation may need clarification for both parties to understand each other. This is especially true when requesting professional services from a vendor. Expect to receive follow-up questions regarding your RFP (even if you don't specifically detail a Q&A process). 
Be prepared to engage with each vendor you contact for a proposal. To best manage your time, identify your preferred contact method ("inquiries via email only, please" -OR- list your cell phone or direct phone line).  While vendors should confirm receipt of your RFP almost immediately, they may take a few days to review your document and draft questions. This means you'll need to set aside a good week or so to allow vendors to reach out. In your RFP timeframe section, it's important to list a due date and time (including timezone) as a cut-off for questions. 
Once you send your responses, vendors will need a few more business days to draft up their RFPs. Don't forget to allow them sufficient time before the final RFP due date.
Budget
No one likes to talk about money. But that doesn't mean you should avoid mentioning your desired budget range. 
Not sure how much a web project costs these days? You might benefit from some initial research or from hiring a consultant to conduct the RFP process for your organization.  
Nonprofits seeking proposals generally have budgets that range from $8,000-$150,000+, with the majority in the $10,000-$25,000 range.
Some vendors may have a project minimum, or offer fixed-price packages at different levels (which may also include ongoing hosting and maintenance). If your organization is seeking branding/graphic design or ongoing support, please designate a separate budget for these line items. Specify in your RFP if you want a general cost estimate presented, or prefer to see itemized costs per deliverable/technical requirement.
Current Site
Website URL(s)
Which website url(s) should the vendor review for the project? Make sure to list all relevant website urls related to your main site (microsites for programs/fundraising events, portals, intranets, etc) and specify which websites are part of the project scope.
Existing Hosting
You'd be surprised how many nonprofits overlook this crucial piece. Before you write an RFP, you should at least know the name of the hosting company (you can work on getting the login credentials later), although ideally, you'd also know what hosting plan you're on. Vendors can make suggestions about upgrades required to achieve your goals for site load time and increasing traffic.
CMS
You'll need to learn a little about how your current website is built. Not sure what content management system you're using? Or maybe your site was built in the early days of the internet when everything was custom html? 
Clarifying this upfront with potential vendors can help you make the right selection. You might have some surprises if your current CMS is Drupal 7 and you're hoping to switch to something like WordPress. 
Your organization may make a decision to use a particular CMS because of integrations offered with other third-party softwares (for donation processing, registrations, etc), or because the staff who will be responsible for site maintenance feel more comfortable with using a particular CMS to make edits.
Previous Development & Maintenance
When was your website originally built? Since that date, how many complete re-designs has it had? These are basic indicators to know if your CMS is running the latest version of the software, or how well-maintained it is.
List the known history of your CMS updates and describe how you carry-out content updates and site maintenance. Have you been doing updates in-house with volunteers or interns? Is webmaster part of the job description for your Communications Director? Or have you hired a developer or IT firm to handle all maintenance?
If your website has been neglected or poorly-maintained for years, then you may not be able to do a light "facelift". Sometimes, it's more efficient to scrap things and start over with a clean installation of the CMS, theme, and plugins.
Current Metrics
All too often, nonprofits ask to see the ROI of their website re-design, but they don't have analytics data to establish benchmarks for success. 
If you have Google Analytics reports or data from KPIs, dedicate a whole section of your RFP to this information. This signals to vendors that: a) your nonprofit is data-savvy, b) you plan on using numbers to determine the success of your project, and b) you're interested in data-driven solutions.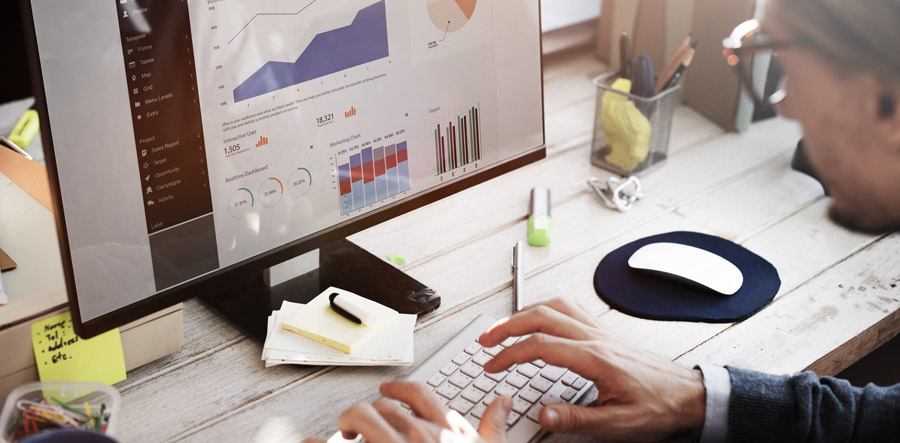 Sample Website Metrics:
Current web traffic: 270K+/mo. (March 2019) without ad buys or linking services.
Growth rate is approx. 50%/yr. (March 2018 v. March 2019)
Website access via mobile has steadily grown; 28% of traffic (March 2015) v. 54% (March 2019); Most users now accessing via mobile.
Our most popular fact sheets (on dementia, etc.) account for the most visited areas on the site; often these fact sheets are the point of entry.
Our website is accessed globally, with visitors from Spanish speaking countries (Spain, Mexico, etc.) as well as Vietnam (Vietnamese). These account for the highest numbers outside of English-speaking countries. [U.S. accounts for 63% of visitors – March 2019]
Objectives & Goals
Defining your goals might sound basic, but it can indicate what your internal measures of success are for the project. Some goals may require more than just a website re-design, so listing out all your goals can help potential vendors recommend complementary services, like branding or analytics.
The project's objectives, on the other hand, are specific deliverables that must be achieved by the vendor.
The ideal RFP would include separate sections for both goals and objectives. Shoot to define 3–5 of each. You can see a few sample formats below (paragraph-style, numbering, bullets).



Goal Example A – Paragraph Format 
Our organization seeks to solidify its established brand, validate our expertise in health policy and further engage those interested in our content. We want to be recognized as the most authoritative site for credible, unbiased and nonpartisan healthy policy content in our state.
Goal Example B – Number Format
Our goals for a new site are to:
encourage traffic, bring increased exposure, broaden impact,
improve user experience,
update aesthetics,
be on a strong technological footing, and
make the site easy for a small in-house team to manage.
Goal Example C – Number Format
Provide a frictionless way for people to donate 
Provide a gateway for volunteers to access and manage their accounts 
Show the impact of our nonprofit through guest stories/experiences and program stats 
Define and nurture audience journey 
Provide a resource for guests
Objectives Example – Bulleted List
Redesign the website with a fresh look and greater functionality
Update the maps to work seamlessly with Salsa Engage and CRM, and cut down on response time
Add an interactive button to the maps so visitors can share an "I gave a coat" announcement on social media
Host the site with the company who redesigns it
Rely on the company we chose to make regular updates to our site
Rockstar RFPs will even go beyond lists to describe the relationship between the goals and objectives for the website redesign: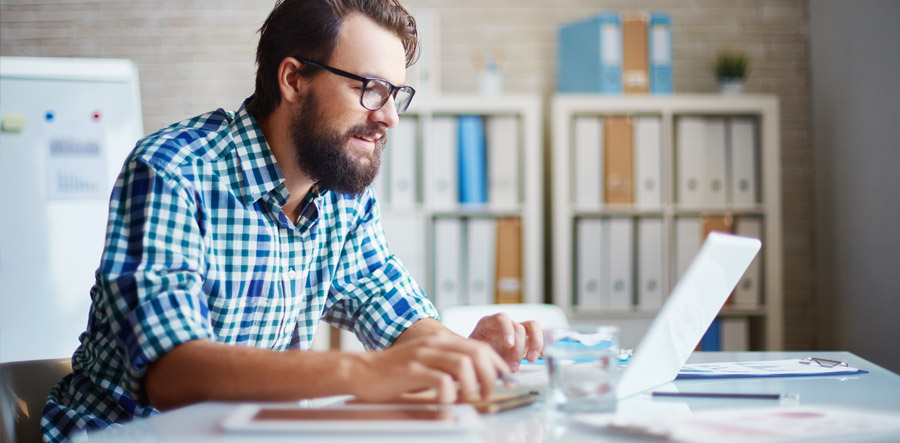 Example of Objectives and Goals from a Rockstar RFP:

We have three primary goals driving our site's redesign:
1) Update website homepage for improved design and user experience through better content prioritization, visual appeal and description of highlighted resources, and concise and well-organized categorizing in the navigation;
2) New, intuitive landing page for our learning materials;
3) Mobile and tablet friendly versions of our website. 
Addressing these goals will ideally achieve our overall objective of gaining more website visitors and engaging them so that they want to return, they use the website as their primary information resource throughout their caregiving experience, and they refer other caregivers.
Audiences
There's no point in investing in a website redesign without considering the end-user. Make sure to tell the vendor if you're seeking their advice on how to better identify your true audiences vs. who you think is visiting your site. If you've already done some work surveying your audiences, please include a summary of your findings.
A best practice is to split up your audience groups into primary, secondary and tertiary audiences.
Describe your audience like this:
Our audience is primarily in the US, and our visitors are age 30+, with most visitors age 50+. They are mostly progressive, LGBTQ-affirming, social justice-minded individuals for whom Christian faith is both deeply personal and a matter of heritage. Many are news readers and are accustomed to reading longer pieces, though we certainly want to make website reading and navigation easier for all visitors. Our primary audiences are the following:
High-traffic visitors:

Participating churches
Interested churches
Those seeking information on supporting LGBTQ members
Other churches
Interested individuals

Low-traffic visitors:

Allied ecumenical and secular organizations
Media
Church hierarchy 
Conservative caucus
Unhelpful audience description:
Target Audiences: 
Donors (Individuals, Foundations, Grants) 
Volunteers (Individuals, Corporate/groups) 
Employees (Current/Perspective) 
Guests & Prospective Guests (including participants in our recovery program) 
Press (Media kit/Resources)
Consider a graphic!
Don't be afraid to break out of the RFP mold. An illustration can be a great way to explain who your audiences are.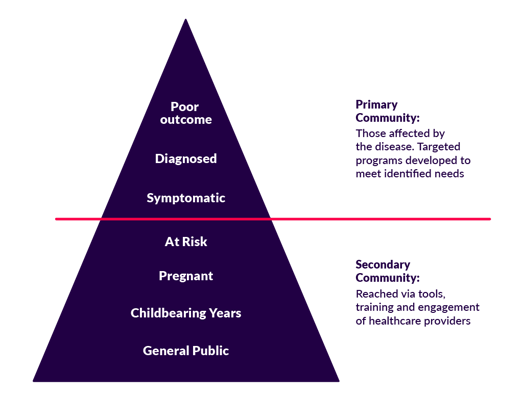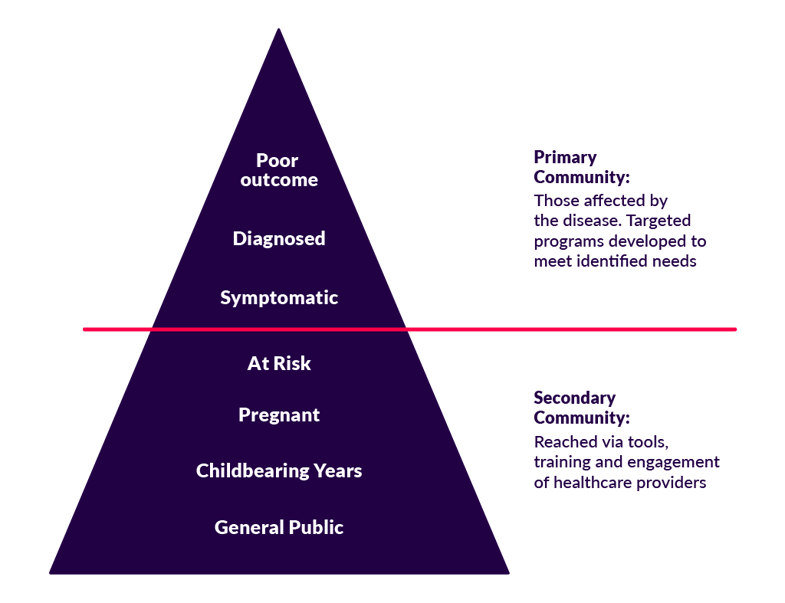 Pyramid: The priority of each audience segment is communicated by which level it occupies in the pyramid, with the top indicating highest priority. Audiences can be grouped into primary, secondary, and even tertiary communities.
Or be a storyteller…
You can also describe how you hope to reach new audiences via specific activities or campaigns:
"In the past, our organization has functioned mainly as a business-to-business organization for land conservation practitioners and influencers such as federal partners, media and academic institutions. Those audiences remain a priority for our nonprofit. Looking forward, our nonprofit is expanding to reach new audiences, currently described as "the conservation concerned." This new audience is business-to-consumer, i.e. people who have an interest in land conservation, either because they have a passion for conservation or because they own land, but who might not be interested in the business of conservation. 
In order to reach this future audience, we are launching a relevance campaign in 2021. Framed as a "call-to-action" campaign, its impact will be measured in increased engagement with those who have not traditionally been moved by land conservation; voter support for land conservation in state and local bond initiatives; additional funding from new donors and corporate partners at the local, state and national level; and new partnerships at national and community levels with other groups that share our common interest. We have hired a national marketing firm as a partner in building, launching and managing the campaign. Together with our partner we have developed initial creative concepts for the campaign as well as an overarching campaign strategy."
As you describe your audiences, remember to identify audiences who might not be visiting your site currently, but whom you hope to attract in the future.
User Experience (UX) & Information Architecture (IA)
Often, the top objective listed in an RFP is "improved user-experience". But many RFPs seem to be written without a clear understanding of the term.
User Experience (UX) is an umbrella term to describe all of a user's interactions: from the general usability of a website and the surrounding context of where and why a user would visit it, to the brand, the content, and the User Interface (UI), the last of which refers to the visual elements such as buttons and icons.
The ideal User Experience is frequently designed with the help of user personas. How do user personas differ from your website audiences? An audience is a defined group of website visitors, while a persona is a hypothetical individual within that audience group. User personas provide insight into demographics, motivations, frustrations, and top tasks for that type of user. It's important to create user personas in order to learn more about the ways that users will flow through your sitemap.
User personas belong to the world of User Experience design, while a sitemap falls under Information Architecture. UX and IA can be considered close cousins, since a user's path influences the number and order of menus for site navigation.
If you're not sure who your website users really are (and have the time/budget for user research) please state this in your RFP. User research can be conducted through interviews with a select group of identified stakeholders. If you've already done some initial work surveying your audiences, please include a summary of your findings in the Appendix.
UX and IA are essential elements for the discovery stage of any good website project. Another component that can be a tremendous asset is the inclusion of example websites.
Website Examples
As soon as your team starts thinking about the possibility of a website project, you should start bookmarking websites that catch your attention (either because of their great design or similar industry). Include a list of example websites in your RFP and tell vendors what it is that you like about each, like this:
We like the following websites:
–  Bureau of Investigative Journalism – because of the highly visual element and the use of icons
–  Europa Bio – because of the consistent color-coding for each audience/tranche
–  Teach First – because of its 'get involved' tab that tells audiences quickly how to participate
–  Enseignons.be – because of their "first visit" cards leading to different types of content
–  Belvue.be – for their "prepare a visit" page and the use of icons on top of the homepage
–  lhecs-academy.be – for their clear top menu with green and blue cards
–  International Civil Society Centre – because of their use of pictures and visuals
–  Finance Watch – because of their take action button on the top-right corner and clear identity
–  Amfori – because of their 'counting' feature
–  MedTechEurope – because of their "what we work on" icons
–  REHVA – because of their clear mission statement banner.
Branding & Graphic Design Needs
If you have an existing brand style guide that will apply to your website, be sure to include it. Some web developers base their designs on templates that cannot accommodate specific branding specifications (such as font styles, etc). If you are considering doing an entire brand refresh at the same time as your website re-design, know that it can be a lot.
Consider the pros and cons of doing your branding project at the same time as your website update:

Should you decide to combine both scopes of work into a single RFP, you may want to establish a separate budget for branding or graphic design deliverables, and detail any timeframe requirements (such as a 50th Anniversary, annual fundraising event, board meeting, etc).
Be sure to mention which team members will participate in the branding process (logo design, logo refresh, brand style guide, brand strategy, etc). It's critical to involve senior stakeholders (or even the board) in early stages of the branding process in order to ensure buy-in for approved designs and reduce the number of design revisions later.
Content
Your vendor needs help here! It's unlikely they'll be able to perfectly assess your content needs by viewing your current website. If you've reached the point of writing an RFP, you probably also know your content needs well enough to be able to describe them in detail. 
Apart from just setting down guidelines in your RFP for content expectations, some organizations choose to include a drafted sitemap as well (in the Appendix section). This indicates that you've already taken some time to discuss internally what pages should stay/go/get condensed, and what order they should be displayed in your main menu and drop-downs. If this seems like the work you expect a vendor to lead, don't worry—this should be covered in a thorough conversation about information architecture.
Migration Needs
Many RFPs lack specifics on migrating content. For example, what needs to be migrated by the vendor due to its technical nature or because your staff is already overworked? And what content, if any, will your team be able to migrate in-house to keep costs down (before or after the site launch)? How important is it that all historic material be accessible on the website, which will increase your project cost? Could archives instead be hosted in the cloud, accessible upon request? If you do choose to migrate content, ensure a staff member is starting now to map out the content (resources, members, locations, publications, etc.) in an .XLS or .CSV file. This will prevent later delays in your project while the vendor waits for staff to complete this document.
If you're willing to receive vendor recommendations on content migration, or go through an initial content audit, make sure you include this in the RFP. An audit of existing content can help uncover broken page links, redundant information, pages hidden from access in the main menu, and build an exhaustive list of your resources. Working with a vendor experienced in content audits can save your staff time later on, when deciding which pages need a rewrite and which information can be condensed. A content audit will add time to your project timeframe initially, but can spare you a world of confusion juggling content needs from different departments later on.
Creating & Polishing Content
Sometimes it's not what you say, but how you say it. For organizations with audiences who are dealing with trauma, or who are seeking resources for complex medical conditions, it's crucial to choose your words carefully. Your staff may be experts on the subject matter, but do they know how to write for the web (or SEO)? Exploring a content strategy and tone for each of your website audiences is another step in the web design process that takes time but can really pay off. 
Start by asking these questions when drafting up an RFP:
Is your team able to provide your website's text, video, and image content?
If not, do you need help with copywriting or editing?
What about stock images/video footage? Perhaps you already have raw video footage but need video editing, or need help selecting stock photos that feel "right" for your audiences.
An ideal website project will allocate for both initial content strategy and long-term editorial strategy that extends at least 6 months beyond site launch. Your content strategy is your roadmap for creating the content that will achieve your goals, such as boosting website traffic or engagement. An editorial strategy establishes how to communicate your organization's brand and how to write for your website and social media in language that is relatable and that follows content writing best practices.
Marketing Your Website Digitally
Don't spend time and money to launch your site, only to forget about it. Unlike the static newsletter-style sites of the past, nonprofits increasingly use their website as a marketing tool. That means designing landing pages with calls-to-action like buying tickets to an event, tracking analytics such as site visitors and conversion rates, using social platforms to expand your brand and engage audiences in different ways, and displaying digital ads to drive new traffic to your site.
Analytics will inform your hunches with real data about how your community actually uses your website. When considering a website redesign, you should plan to include some digital marketing basics. Specify if you're willing to consider them as part of a future phase for the project, or if you have a set annual budget (for paid ads, for example).
SEO & Analytics

– Search Engine Optimization, Google Tag Manager, Google Analytics

,

etc

.

Organic Social Media

– Will you embed streams on your website? Do you want "share" buttons for content? Option to login using social?

Paid Social Media Ads

– How will social campaigns interact with your website?

Google Ad Grant/Google Ads

– Are you already using free advertising from Google, or do you need help setting it up?
Technical Components
Integrations/APIs
Too often, RFPs are written without a picture of your current software "ecosystem". A website is not a standalone product these days, especially for organizations that do fundraising, membership, grants, event management, advocacy, etc. 
What are your needs for:
Email marketing
CRM (Client Relationship Management)
Donor Management 
Event Management
E-Commerce
Learning Management (LMS)
Member Management

Paid memberships?
Member-only content hosted in the website?
Member-discounts for event registration or e-commerce?
User-generated content?
How tied are you to using these softwares (ie: contract ending soon, recently switched to this software, seeking new software with better integrations for accounting or email marketing tools, etc)? 
If you're open to software recommendations by a vendor, they may be able to connect you directly with a salesperson to do a demo or get a pricing quote. If so, you should be prepared to think about the following:
How many staff would need user access to a software? 
How many contacts would you need to migrate? 
Does your general RFP budget account for monthly software costs?
Which staff will be responsible for the software? What's their level of tech-savviness or preference for ongoing support communication?
A seamless user-experience is always preferable compared to linking outside your site or embedding content that doesn't match your brand or page templates. 
An API (Application Programming Interface) can be used to create an integration with a third party CRM, donor software, or other type of database. Because APIs can run you to the tune of $10,000+ in one-time development fees, you'll have to decide if it's worth the additional cost for your organization's needs. 
Instead, you might indicate to vendors that it's acceptable to link out to 3rd-party hosted pages or forms that have been "skinned" to match the look and feel of the website. Or, that embedded forms hosted by a 3rd-party software are also a good option. It's always best to check with your software company to see if they allow embeds (for security concerns or restrictions on your account level) and how customizable their form builder tool is.
Custom Code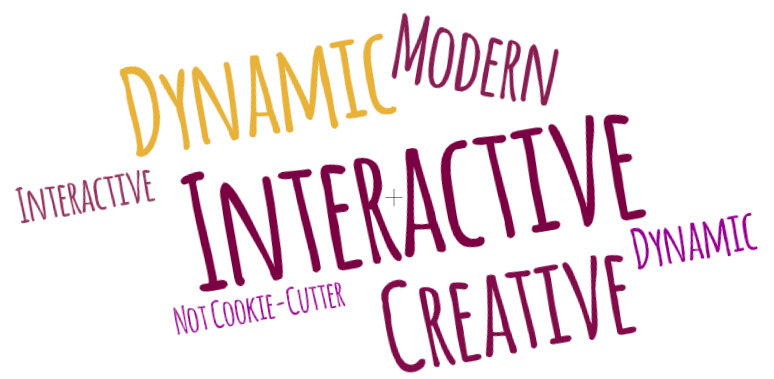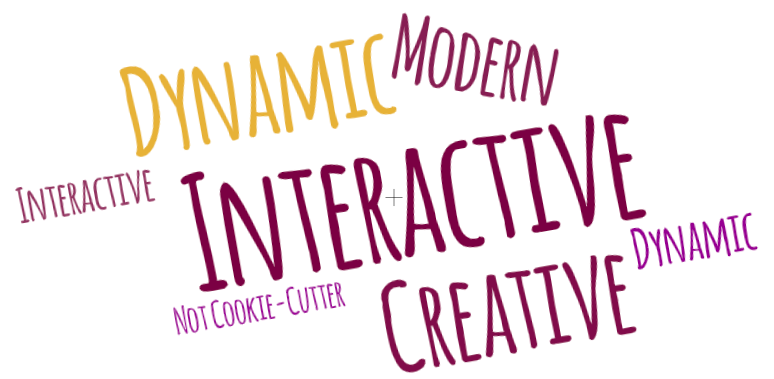 "Modern", "Dynamic", "Interactive", "Creative", "Not Cookie-Cutter". The above words are often used to describe an ideal website in an RFP. What they mean to vendors is animated text or numbers, interactive calculation tools, page transition effects, and page elements that "float" or display new content upon mouse-scroll. 
Whatever is new and shiny in terms of web design fads might look impressive to potential donors or funders, but they often require a developer's assistance for maintenance and can age the look of your website in a year or two. 
If all your example websites have parallax coding or custom Javascript animations, but your target audience is located overseas with poor internet connections, you might want to rethink your need for this design style. Adding custom code like the animated statistics below is engaging, but will slow down page load time.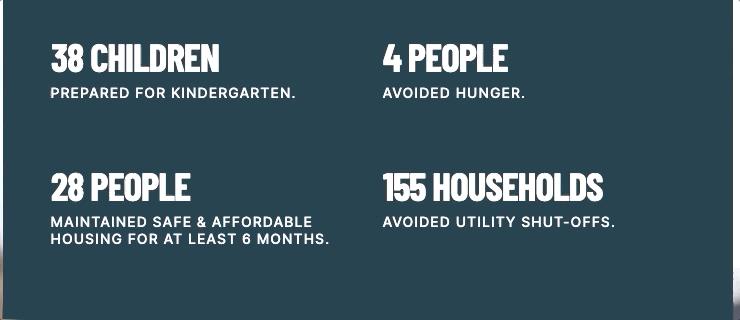 Website Maintenance, a.k.a. Site Sustainability 
How will you update software and content for your new website post-launch? Will in-house staff or volunteers make the necessary updates? 
If you are seeking ongoing maintenance from a vendor, do you have an idea how many labor hours you'll need to include for your monthly retainer? In the RFP you can request cost estimates for the next 12-24 months for ongoing support (and/or hosting).
Be sure to ask vendors who will own the site assets, such as the CSS stylesheet, graphics, plugin and stock media licenses, etc., after launch. Does their approach mean that your site can only be hosted with this particular vendor?
If you do plan on working with someone local for ongoing technical support, make sure that your RFP includes a request for full documentation from the vendor so that you can pass this on later.
Future Hosting & Domain Name
We understand that it's not necessarily your job to grasp how a web server works, or the intricacies of FTP access. 
If you're starting a new nonprofit and have never had to deal with this before, you'll need to register a domain name for your organization and eventually sign up for a hosting plan. Specify in your RFP if you'd like the vendor to provide these services as well, or to offer you hosting guidance.
If you already have an existing website, you might be locked into a contract with your hosting provider. You should still consider how your current DNS provider or web host is affecting your goals for your project. 
How Hosting Affects Project Goals

Perhaps you're considering an organizational name-change. If so, you should start checking to see if alternate url addresses are available with your current domain provider. Or visitors might complain about your site load-time, or be located overseas with poor internet access. In either of these scenarios, you'll want to know whether your hosting plan is limiting the available bandwidth for your site. 
Tell vendors in your RFP everything you know about your current hosting plan and contract terms so that they can reply with the right information. 
Some companies may exclusively require you to sign-up with their ongoing hosting and website maintenance plans, while others might have a more laissez-faire policy. Make sure to inquire about a vendor's pricing model: Do they offer monthly pricing including hosting and support that splits up the initial development cost over an annual contract? Can you continue to host your website with your current provider if you're happy with that company or because you're locked into a long-term contract with them?
Accessibility
Web accessibility is an increasingly important aspect of web design. Whether your organization receives federal or state funding that requires 508-compliance, your audiences are visually impaired, or you're simply striving for best-practice design standards, accessible content is something to factor into an RFP. You'll also need to determine what level is required: WCAG 2.0 or WCAG 2.1 (A, AA, AAA). To learn more about differences between levels, check out this resource. Specify your exact requirements in the RFP, like this:
"The site should be at a minimum WCAG 2.0 AA standard for ADA compliance.  If we can get to WCAG 2.1 compliance, it would be preferred, but is not required".
Keep in mind that the highest level of accessibility legally requires an external audit and implementation of fixes by a developer, as well as ongoing content customizations (such as alt tags, captions, transcripts, etc). An initial audit can cost anywhere from $2,000-$10,000 (sample pricing from UserWay).
Languages
A common request in RFPs is that website content be translated into multiple languages. What does a vendor need to know about your multilingual content needs?
Number of desired languages
Automatic or manually-edited translations. If manual, do you have native speakers on staff available to provide translations?
Is different content available in different languages (ie: Spanish-language content pages display different program information)?
Do you require multiple website url addresses for each language?
Should the website auto-translate based on the visitor's browser language settings?
Will you need SEO keyword research to be provided for multiple languages?
Will you need an alternate logo design with translated tagline for secondary languages?
Do users need to be able to enter information in search or forms in languages other than English?
Site Search
Is searchability an important issue for your web audiences? Do visitors expect to find detailed information in your PDF resources or reports by using the search toolbar? Then you should communicate this in your RFP. If you need a custom page layout to display search results, provide example links.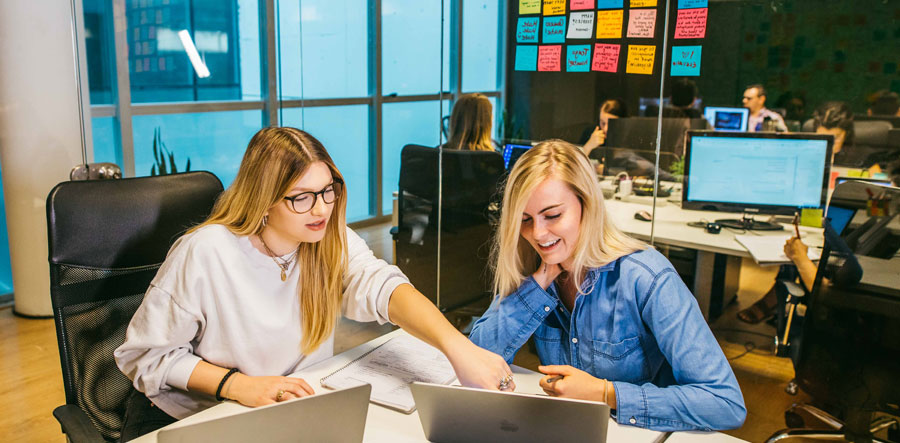 Sample description for a site's search function:
Our Needs – An intuitive navigation structure and robust search capability to attract traffic through external search engine (and site-based) searches using the following terms: caregiver, caregiving, caring, parent care, elder care, Alzheimer's, Parkinson's, stroke, dementia, family, burnout, stress, home health care, caregiving classes, caregiver support, help caring for parents/mother/father/partner/spouse. 
vs.
Our Current Site – Search is not effective; advanced search is not user-friendly and not useful. Presently have two search systems implemented: for caregivers and a learning center. Navigation is not intuitive either; navigation bar organization and verbiage need to be reviewed and revised.
Nonprofit websites often use password-protected sections to display content restricted for certain types of users (board, members, clients, tenants, parents, grant-seekers, etc). Because this content won't be visible to the general public visiting your site (including potential vendors) please describe the number of pages behind the user-restricted login, what type of content they feature (resources, calendar, meeting minutes, 3rd-party hosted webinars), how many levels of user-restricted access exist, and what resources each user-type can access. 
Depending on the software involved, you may want users to have the same login to both their software access and user-restricted content on your website. In this case, a SSO (Single Sign-On) may be helpful.
You'll also want to consider whether you want users to be able to publish their own resources and media (user-generated content), versus only being able to submit these via forms or files for someone on your team to publish.
Does your nonprofit have an annual fundraising event or conference? Where do you end up storing related event registration forms, photos, agenda, speaker profiles, etc? If you currently have a separate event or program website, this is essentially a microsite concept. Microsites may be hosted on a sub-folder of your main site's url address, or have a different url. They can feature the same branding and template as your main site, or have unique colors and layouts. It all depends on your goals for brand recognition and website traffic. In your RFP, make sure you describe relevant content, software and audiences for a microsite.
It's important to know your own limitations, whether in terms of staff time to dedicate to the project, budget, or timeframe. Your RFP should clearly define what functionality is absolutely required and what is "nice-to-have" (include this at the end of the Technical Requirements section). Or, you can request that a vendor highlight "optional" items in their proposal that could become future site add-ons.
We are looking to add each of these elements at some point in the future. Thus, the website should be able to accommodate all of the following features, even if they are not built presently: 
Do you see how this RFP mentioned they would eventually consider adding these items in the future? If you're seeking proposals that split up deliverables into a phased approach, it's important to state this in your RFP. Some organizations face budgeting issues and need to split up costs under different financial years or quarters. Others are short-staffed and can't spare their team the hours required to project manage simultaneous branding/web/digital marketing projects. However, keep in mind that while splitting things up into separate projects with different RFPs might be better for your timeline, it might result in increased costs or affect the consistency of the work quality.
Once you have your RFP, you've done all the work, right? Your RFP outlines the purpose, goals, audiences, and technical requirements of your project. 
Unfortunately, just because vendors understand what you're looking for doesn't mean you'll be prepared to pick the right vendor. You need to know if their development process is going to work for you.
You don't have the staff capacity to block off months of their time to do back-to-back branding and web development projects, so you'd prefer a phased approach over a longer timeframe. 
Your management team has decided they want to pay a vendor based on completion of different project deliverables.
You expect each page in your website to be developed one-at-a-time, from wireframes to content to coding, with time for your team's feedback and final edits. 
In all these scenarios, you might not realize that your preference for certain timeframes, payment schedules, or development methodologies can affect the proposed project cost and the likelihood that you'll receive a product that meets your standards. Requesting weekly conference calls with your project manager might help keep your team on track, but it's also going to increase the project cost. 
Take some time to research different development methodologies (like Agile, Waterfall, Scrum, etc.) so you can better understand vendors' responses (both in terms of estimated launch date and total cost). If you require certain QA testing procedures (mobile, browser, accessibility, etc) you might want to describe them in your RFP.
Some RFPs choose to list bullet points describing all the factors that will go into selecting a final vendor. Others detail exactly what weight each factor will be assigned to determine a vendor's total score. Sometimes, RFPs will even have a point-based system. Either way, when writing an RFP make sure potential vendors know what skills and experience they should be highlighting in their proposal.
The following evaluation criteria categories, not necessarily listed in order of significance, will be used to evaluate bid proposals received in response to this RFP. The evaluation criteria categories may be used to develop more detailed evaluation criteria to be used in the evaluation process. 
You now have everything you need for a great RFP that communicates your needs and smoothes the way for a successful project. Feel free to use our downloadable RFP template for Microsoft Word and Google Docs to ease your RFP process even more. Good luck, and don't be shy about contacting us if you have any remaining questions!