Every day, millions of people use Venmo to send and receive money from each other. Nonprofits receive money in the form of donations all the time, so of course, they also benefit from using Venmo!
While there isn't a specific version of Venmo for nonprofits, organizations can still leverage regular Venmo accounts to effectively collect donations on the app. Venmo simplifies the fundraising process and allows nonprofits to reach a wider audience of supporters, including younger donors.
Whether you're familiar with Venmo or not, we'll make sure you understand how to use it effectively for your nonprofit.
At Double the Donation, we connect nonprofits with matching gift opportunities. We know how important it is to maximize your organization's fundraising potential. Just like matching gifts, Venmo fundraising is another way to ensure that you're collecting as many donations as possible. We're happy to share this guide to Venmo for nonprofits to help you reach your fundraising goals and continue running your organization smoothly.
Here are the topics we'll cover in this article:
Follow along to learn how Venmo works, why your nonprofit should use it, and how you can leverage it to its fullest potential.


The Venmo for Nonprofits Basics
Let's start with a basic definition of Venmo. Venmo is a peer-to-peer mobile payment service that allows people to request and accept funds from each other. Instead of using cash, checks, or direct bank transfers, Venmo securely deducts money from users' bank accounts and sends it to the intended recipients. That way, transactions are easy and protective of your sensitive information.
Venmo is one of many payment processing apps, but it's certainly one of the most popular options. Check out these statistics about Venmo's size and scope:
Venmo has more than 83 million users.
Its largest user age group is 25-34-year-olds.
The app processed about $230 billion in payments in 2021.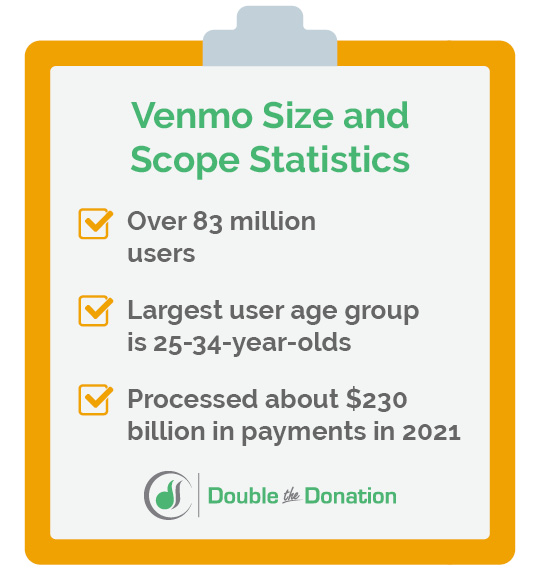 Why do so many people rely on Venmo for their payment processing needs? For starters, it's extremely simple to use. Once you link your bank account, debit card, or credit card to your account, all you have to do is find who you want to pay, type in the payment amount, and send it.
Another useful feature of Venmo is that you can keep money in your account to use in the future or transfer it to your bank account for safekeeping. For a combination of the two, you can input the amount you'd like to transfer and leave the rest in your account.
You might already use a more traditional payment processing platform like PayPal. While Venmo supports nonprofits in the same way PayPal does, it's still an effective and secure fundraising method.

Advantages of Venmo Fundraising
People use Venmo all the time to pay their friends, family, and even some businesses. Making a Venmo account for your nonprofit changes the game for donations. Instead of going through the formal process of filling out your donation form, donors can now send you money just like they would for people they know. That way, the process is easy and familiar to donors.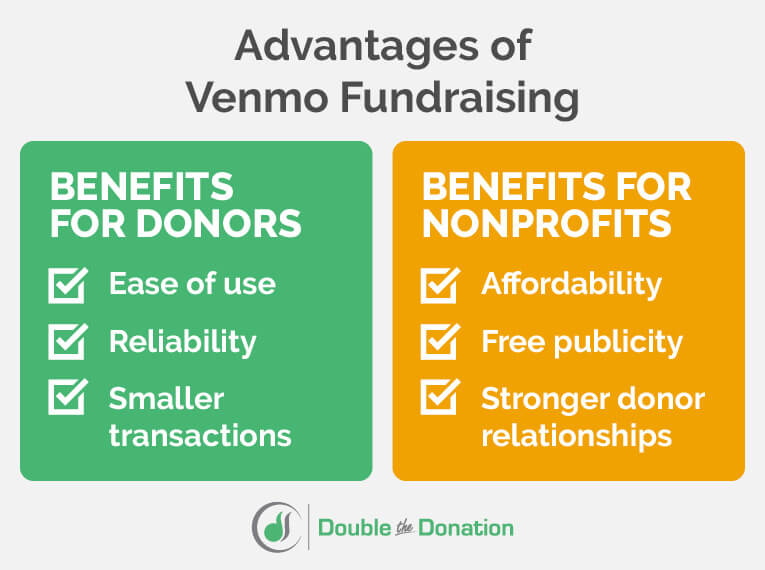 Benefits for Donors
Venmo fundraising provides a whole new donation experience. Here are some of the key benefits the app offers to donors:
Ease of use. Since people are familiar with Venmo, using it for donations makes it easier for donors to lend their support. The app itself has a simple interface that new users can quickly pick up on. Instead of navigating to your donation page, donors now have the ability to donate to as many nonprofits as they would like all within the same app.
Reliability. Venmo is a reputable payment processing platform with ample encryption. They take care to protect your account information and monitor your account activity to thwart suspicious transactions. Using Venmo, donors can feel comfortable donating to their favorite causes without worrying about their information being compromised.
Smaller transactions. With an average transaction amount of around $60, Venmo invites donors of all giving capacities to contribute. People can feel comfortable giving $10, $100, or $1,000 through Venmo because of the nature of the app.
Donors will appreciate the opportunity to donate through a well-trusted, easy-to-use platform.
Benefits for Nonprofits
While Venmo is a great platform for prioritizing the donor experience, it also boasts many advantages for nonprofits that create an account, such as:
Affordability. Nonprofits are always looking for ways to keep their costs down. Venmo makes it easy because they don't charge any monthly fees. They also don't charge any fees for sending money with a linked bank account or debit card. When accepting donations, the associated fee is only 1.9% + $0.10. Other than that, the only other fees are for sending money with a credit card or initiating instant transfers to your bank account, both of which are optional.
Free publicity. One of the unique features of Venmo is that it functions like a social media app. You can add your friends and family to see their transactions and vice versa. This feature allows donors to show off their support for your cause and encourage others to do the same.
Stronger donor relationships. Since people use Venmo primarily with friends and family, they associate the app with people they know. Therefore, using Venmo to donate to your organization may help donors feel a more personal connection to your nonprofit. Additionally, nonprofits can comment on the donations they receive to thank donors and even start a conversation with them.
Using Venmo for nonprofits is a win for both donors and organizations accepting donations. The app is easy to use and invites donors to form a deeper connection to the causes they care about. Your nonprofit can obtain all the benefits we've discussed by simply setting up an account.

Creating Your Venmo for Nonprofits Account
Just as using the app is easy, creating your nonprofit's Venmo account is even simpler. While Venmo doesn't yet have a nonprofit account option, they are performing a private beta test for a select group of nonprofits, so nonprofit Venmo accounts could be coming soon.
For now, though, nonprofits can create regular accounts following these steps: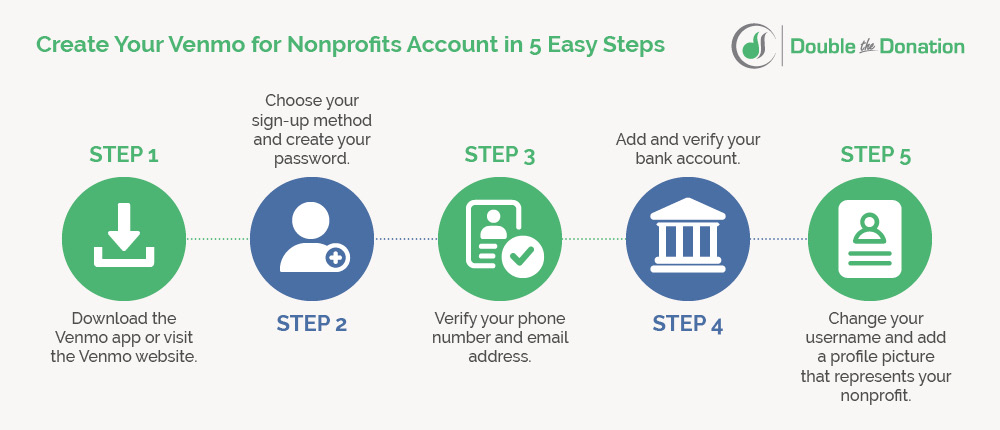 Download the Venmo app or visit the Venmo website.
Choose your sign-up method and create your password.
Verify your phone number and email address.
Add and verify your bank account.
Change your username and add a profile picture that represents your nonprofit.
It couldn't be easier to create your account. As soon as your nonprofit sets up its Venmo account, you can spread the word to your donors so they can start taking advantage of your new fundraising method.

Promoting Your Nonprofit's Venmo Account
Once you create your nonprofit's Venmo account, the next step is to let your supporters know about it. Current donors will be excited about this new and easy way to donate, and prospective donors may be more enticed to start giving with this option.
There are several ways that you can tell your donors about your new capacity for Venmo fundraising. Check out some of our ideas: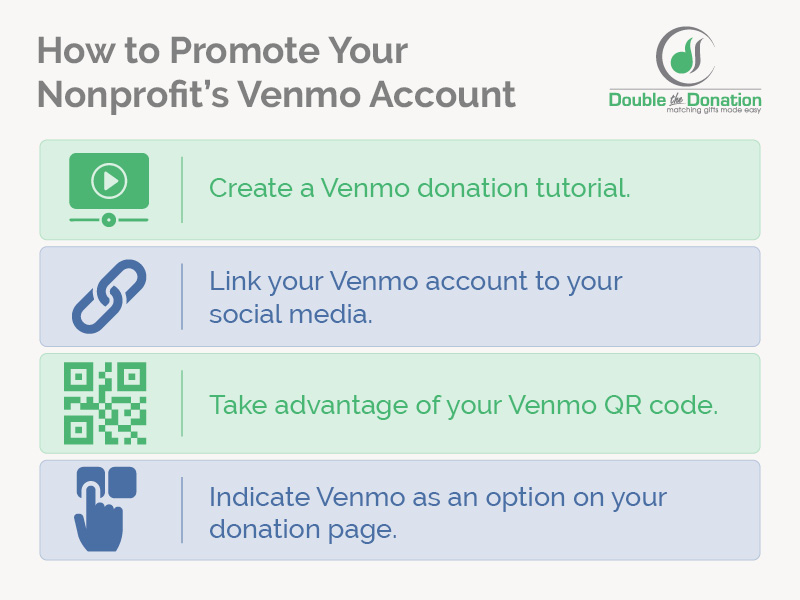 Create a Venmo donation tutorial. It's safe to assume that many of your supporters know how Venmo works, but not all of them. Help them out by filming a video tutorial that teaches donors how to set up their own Venmo account and how they can use it to donate to your cause. Post the video on your website and social media to spread the word.
Link your Venmo account to your social media. Speaking of social media, it's one of the most powerful tools for communicating with your supporters. Create a post introducing the concept of Venmo donations and provide a link to your account in your bio. Additionally, include your Venmo username in all email newsletters alongside your other social media profiles.
Share your Venmo QR code. Venmo provides each account with a unique QR code, making it easier to find the Venmo account you're looking for. You can post your nonprofit's QR code on social media, include it in email newsletters, and print physical copies to hand out at events.
Indicate Venmo as an option on your donation page. You likely feature a donation form on your nonprofit's website. However, telling visitors on this page that Venmo is another option for donations can allow people to decide which method they prefer and donate accordingly.
Your supporters will be thrilled to hear that your nonprofit is making strides to create a seamless donor experience with Venmo. However, there are extra steps your organization can take to strengthen relationships with your supporters through the app.

Connecting with Donors Through Venmo Fundraising
Venmo presents a unique opportunity to build relationships with your donors when they lend you their support. While the format of the app itself allows you to interact with others like on other social media platforms, there are additional ways your organization can intentionally connect with donors on Venmo.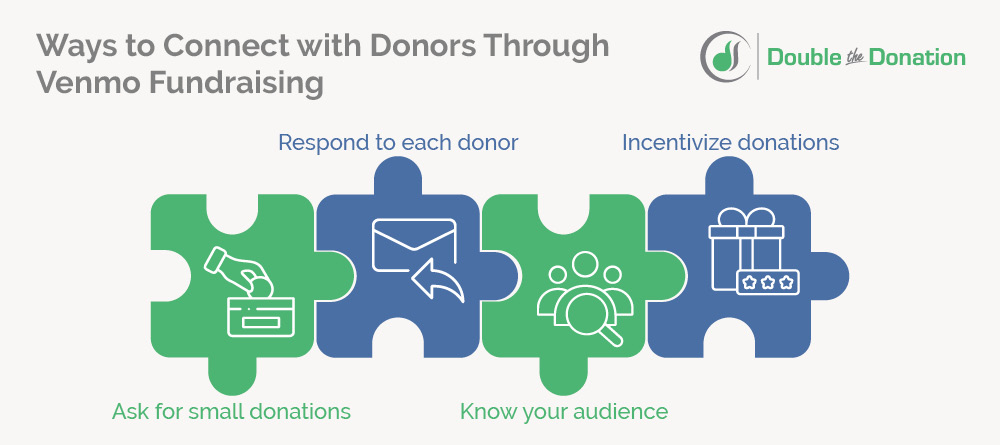 Ask for small donations.
Of course, large donations are always appreciated, but every donation counts. Considering that Venmo has a younger audience, you might be better off encouraging smaller donations. That way, you can acquire new donors who never would've considered donating before through more traditional methods.
Try asking your nonprofit's social media followers to direct message your organization with their Venmo username and how much they're willing to donate. Then, you can send them a request for that amount so that they won't forget.
Respond to each donor.
It's important to show your appreciation for your donors. Venmo makes it easy by allowing you to like and comment on Venmo transactions. Use it as an opportunity to thank donors and maybe even start a conversation about your cause.
You can ask donors why they chose to donate to learn more about them. Then, feature the best answers on your social media with their permission. This way, you can show others why your donors feel compelled to support your organization.
Know your audience.
Younger generations dominate Venmo, so it's important to keep that in mind when running your account. Make your responses fun by using emojis and GIFs that Venmo provides.
You also might want to select certain donors and give them a shoutout on your social media. Younger donors will love being recognized for their fundraising efforts.
Incentivize donations.
A little healthy competition can make donating more fun. Plus, you'll raise even more for your cause. Try hosting a fundraising competition by splitting supporters into teams. You can let people form their own teams, create teams based on demographic factors, or choose groups randomly.
Each team will compete for who can raise the most money. Give the winning team a prize such as a social media shoutout, gift cards, or free branded merchandise. Turning donating into a game will encourage more people to join in on the fun.
Bear in mind that this serves as a form of peer-to-peer fundraising, and some employers will match the amount their employees raise for an organization. Promote the opportunity to incentivize participation and drive greater fundraising results!
Encourage more Venmo donations with matching gifts.
Matching gifts allow you to double or even triple the amount you earn for your organization. Plus, donors will feel good knowing they had an even larger impact on your organization than they anticipated.
Using employer appends, you can determine which of your donors' employers have matching gift programs. Then, you can reach out to those donors letting them know that their employers will match their donations to your nonprofit, even those made through Venmo. That way, you can maximize your fundraising potential and highlight Venmo as a viable donation platform.
With Venmo, you can really get to know your donors, make the donation process fun, and raise more for your cause.

Additional Resources
Nonprofits are always looking for ways to increase their donations. While most typically search for new ways to promote their organization as a whole, why not try out a different fundraising platform altogether?
Using Venmo for nonprofits is the best way to encourage donations by connecting with younger supporters on an app they already use regularly. For Venmo users, donating to your cause can become just another part of their Venmo routine alongside splitting checks and paying rent.
Once you've set up your nonprofit's Venmo account, you might start looking for new ways to maximize your fundraising potential. Matching gifts allow you to gain the support of your donors' employers. With your new Venmo donations rolling in, you'll want to check out these resources to see how you can double or even triple them: