In today's world, where environmental challenges are at the forefront of global concerns, nonprofits dedicated to protecting and preserving our planet play a crucial role. These organizations rely heavily on the generosity of individuals and corporations to fund their initiatives and ultimately make a positive impact on the world around us. One effective way for supporters to maximize their contributions to such causes is through corporate donation matching⁠. And luckily, matching gifts and environmental nonprofits go hand in hand.
In this guide, we'll explore all things matching gifts and how environmental nonprofits like yours can maximize their benefit. This includes:
Without further ado, let's dive in and discover what you need to know about matching gifts and their significance for environmental causes.
The Basics of Matching Gifts and Environmental Organizations
Matching gifts offer a valuable opportunity for individuals to increase their charitable giving⁠ impact—and for nonprofits to maximize their fundraising. When an employee donates to an eligible organization, the company contributes an equal (or sometimes greater!) ratio of funds.
In order for a donation to be matched, the process typically follows a few critical steps:
Employee donation: An employee supports a nonprofit through a financial contribution.
Qualification: The employee determines if their employer offers a matching gifts program and whether their recent donation qualifies. (Gifts to environmental causes typically do!)
Submission: The employee completes the necessary online forms or paperwork to request a match.
Review and approval: The company reviews the employee's matching gift request and confirms the nonprofit and donation eligibility.
Disbursement: Once the employer approves the request, they allocate the matching funds to the organization.


The benefits of corporate matching gifts are significant and far-reaching for environmental nonprofits of all shapes and sizes. Check out these impressive statistics that highlight the opportunity at hand:
65% of Fortune 500 companies match gifts, along with thousands of smaller and mid-sized businesses.
$2 – $3 billion is donated through matching gift programs each year, while an additional $4 – $7 billion goes unclaimed.
Over 26 million individuals work for companies with matching gift programs. (However, 78% of this group is unaware of their employers' initiatives.)
84% of donors are more likely to give, while 1 in 3 would give more if a match is applied.
An awareness of matching gifts produces a 71% increase in response rate and a 51% increase in average gift amount.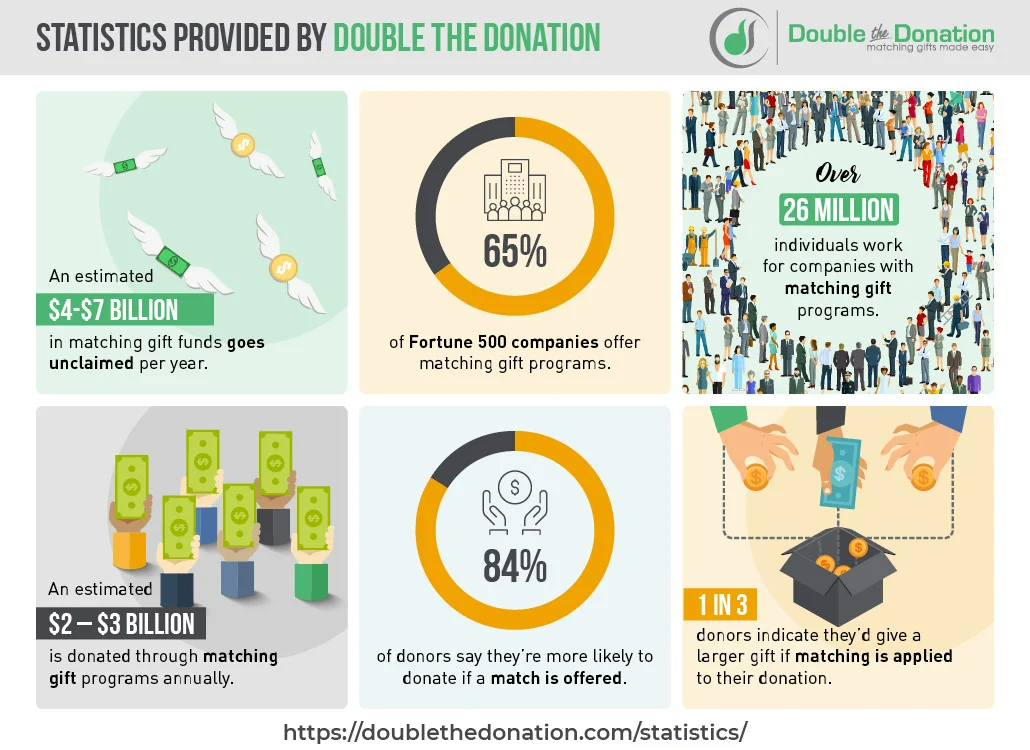 All in all, employee matching gifts positively impact your organization, its donors, corporate partners, and beyond. In other words, it establishes quite a mutually beneficial relationship!
Companies That Match Donations to Environmental Groups
Tons of companies match charitable gifts by their employees to environmental causes. Check out these five standout examples with sustainable values of their own that actively support employee giving by matching environmental donations.

Patagonia
Patagonia is renowned for its dedication and commitment to environmental sustainability. The company's employee matching gift program supports nonprofit organizations focused on environmental conservation and activism and encourages current full- and part-time team members to do the same.
Employees are encouraged to donate to eligible environmental (or most other) nonprofits of their choice, and Patagonia will match their contributions up to $10,000 per year, doubling the impact of their support.
Note: Patagonia employees are encouraged to get donations of $2,000 and above pre-approved by the company by contacting employee.match@patagonia.com in order to guarantee the full match.
Learn more about the Patagonia matching gift program here.

Citadel Environmental
As an employee-owned Environmental, Health, Safety, & Sustainability consulting firm, Citadel Environmental Services, Inc. (or Citadel EHS) values environmental stewardship and supports employees who share this passion. Through its targeted matching gift program, Citadel Environmental employees can contribute to environmental nonprofits, and the company will match their donations.
Not to mention, the company has also acquired RMD Environmental Solutions, thus significantly increasing the number of match-eligible team members. This growing initiative empowers employees to make a difference in the environmental sector (as well as select other nonprofit causes) and amplify the impact of their giving.
Learn more about the Citadel EHS matching gift program here.

Archer-Daniels-Midland Company
The Archer-Daniels-Midland Company (also known as ADM) recognizes the importance of protecting the environment and thus supports employees in their philanthropic efforts to do so. The company's matching gift program extends to nonprofit organizations that focus on addressing environmental conservation, sustainability, climate change, and other societal needs.
Employees can donate to these causes, and ADM will match their gifts between $100 and $5,000 per year, effectively doubling the support provided to environmental nonprofits and beyond.
Learn more about the ADM matching gift program here.

Ecolab
A global leader in water, hygiene, and energy technologies, Ecolab understands the critical role environmental nonprofits play in creating a sustainable future. Through their matching gift program, employees and retirees can contribute to environmentally focused nonprofits, and the company will match their donations. (Note: Current employee gifts are matched at a dollar-for-dollar rate, while retiree donations are matched at fifty cents on the dollar.)
However, the company does stipulate that match-eligible donations must be made through its CSR platform on the Ecolab Giving Site. In addition, Ecolab employees qualify for generous Dollars for Doers and/or Board Leadership grants to further amplify their support.
Learn more about the Ecolab matching gift program here.

Pioneer Natural Resources
As a powerful way to recognize the significance of environmental conservation and support its employees' commitment to sustainability efforts, Pioneer Natural Resources matches team members' donations to such nonprofits. Through this matching gift program, full-time and part-time employees can donate to environmental nonprofits (as well as educational institutions, health and human services, arts and cultural groups, community organizations, and more), and the company will match contributions accordingly.
This initiative encourages employees to support organizations dedicated to the environment, with qualifying individuals eligible to request between $50 and $5,000 each year.
Learn more about the Pioneer Natural Resources matching gift program here.
Growing Matching Gifts with a Sustainable Strategy | Key Tips
Encouraging donors to get involved with their employers' matching gift programs can generate additional funding to support critical environmental initiatives. As you look to integrate matching gifts into your overall giving strategy, keep these recommended practices in mind.
1. Highlight environmental impact in matching gift communications.
When promoting employee giving opportunities to your donors, be sure to emphasize the environmental impact that corporate matching can have. Take the time to explain how an individual's contributions, in addition to their match, will directly support initiatives like conservation, clean water and energy, and climate change mitigation⁠—or whatever your focus is.
By aligning matching gifts with your organization's mission, you can better inspire donors to take advantage of the opportunity and make an even greater, tangible impact. Just imagine the results made possible when you're able to plant two trees for the cost of every one!
This ultimately leads to more sustainable funding and enhanced donor engagement as your supporters feel increasingly connected to your mission.
2. Use donor employment information to your advantage.
The information you have about your donors is the key to developing a targeted matching gift strategy. And the most important data involves your supporters' employment details. 
For example, if an organization knows which company a donor works for, the fundraising team (or its employer database tool) can research and gather information about the specific matching gift program. This enables the nonprofit to share tailored guidelines and forms required to request a match. And it ultimately simplifies the process and increases the likelihood of donor participation.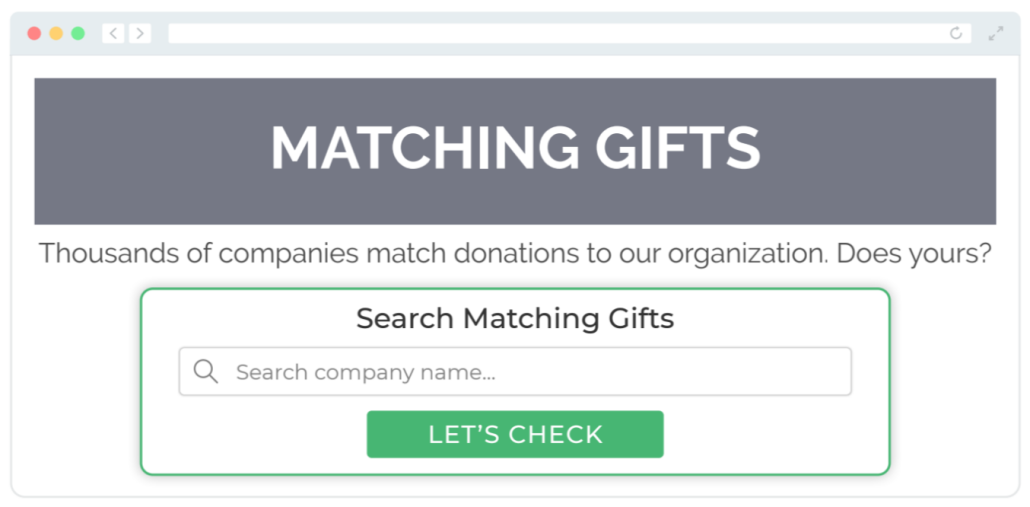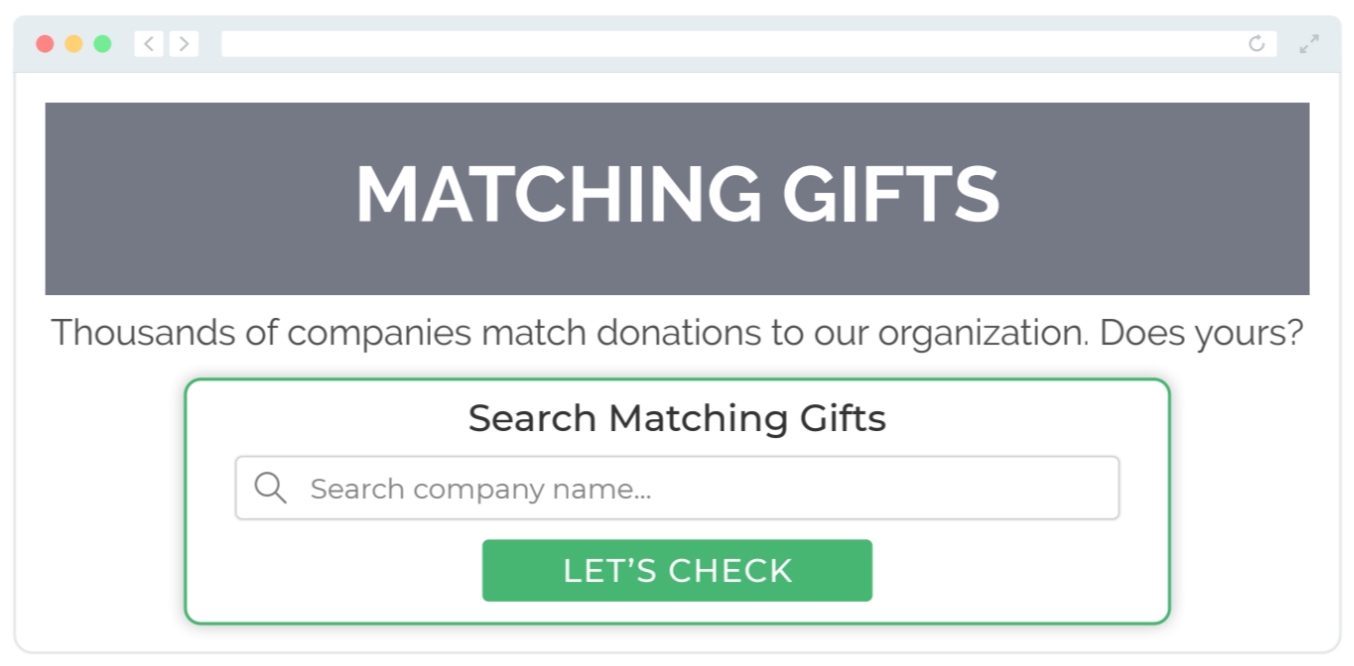 Additionally, it's worth noting that donors who back environmental nonprofits like your own tend to be increasingly likely to work for socially conscious companies. And these companies are more likely to offer matching gifts. As a result, your supporters may have a greater chance of eligibility in the programs in the first place than the average corporate employee!
This presents a significant advantage when promoting matching gifts, as you can target donors who are more likely to work for companies that match employee contributions.
3. Establish a seamless matching gift technology ecosystem.
Just like a healthy physical ecosystem is essential for maintaining a balanced environment, so too is an optimized technology ecosystem when it comes to successful fundraising. And one of the most crucial aspects of your organization's technology system is a fundraising tool that integrates seamlessly with a matching gift platform.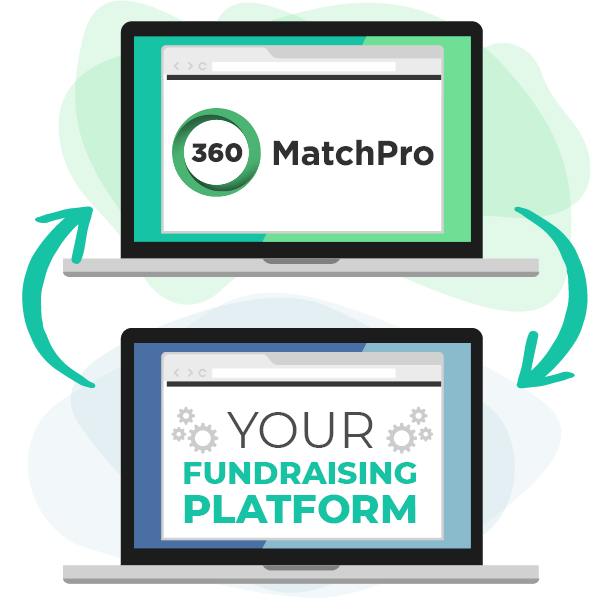 This allows your team to enact a coordinated effort that incorporates matching gift opportunities directly into every step of the fundraising process⁠—from donation appeals and other promotions to the giving experience itself and associated follow-ups.
Doing so makes it easier for supporters to get involved with tailored guidance and information while your fundraising team doesn't have to lift a finger. All in all, you can expect to receive more matching gift revenue and save time and resources that can be reallocated to your highest-value mission activities⁠—not to mention heightened donor engagement!
5 Free Templates to Encourage Matching Gift Participation
It's time to begin promoting the matching gift opportunity to your network of support. Feel free to work off these provided messaging templates that overview matching gifts and their benefits, explain how donors can get involved, and encourage them to do so accordingly.
Template #1: Social Media Post
Did you know that your donation to [NONPROFIT] could have double the impact? Many companies offer matching gift programs for their employees⁠—and environmental causes like ours are often eligible recipients.
Want to multiply the value of your gift? Take a moment to check if your employer participates and unlock the potential for your donation to be matched! Together, we can make an even greater difference for the world around us. #MatchingGifts #DoubleYourImpact #SaveThePlanet #SupportEnvironmentalCauses
Template #2: Fundraising Appeal
Subject: Your gift has twice the power to protect the environment…
Dear [DONOR],
We hope this letter finds you in good health and high spirits. We are reaching out today because we know you care deeply about the environment and our organization's cause. With your continued generosity, we have accomplished remarkable things together, but there's still so much more we can achieve.
We wanted to share an incredible opportunity to make an even greater impact with your donation. Many companies offer matching gift programs to their employees, which means your gift to [NONPROFIT] can go twice as far in protecting our planet.
Imagine the difference we can make if your donation is matched dollar-for-dollar⁠. Your $50 contribution becomes $100, $100 becomes $200, and so on. It's an extraordinary chance to amplify your support without any additional cost!
To see if your employer participates in a matching gift program, visit our matching gift page to search our company database here: [URL]. Once you confirm eligibility, just submit your initial donation and follow your company's instructions to initiate the matching gift process.
We are immensely grateful for your unwavering support and belief in our mission. Your commitment to environmental conservation has made a tangible difference. We invite you to join us once again in this extraordinary opportunity to double the power of your gift.
With heartfelt gratitude,
[NAME] [NONPROFIT]
Template #3: Follow-Up Email
Subject: Double Your Impact: Your Gift Can Go Twice as Far!
Dear [DONOR],
Thank you for your dedication to building a sustainable future through your ongoing support of [NONPROFIT]. We'd like to share an exciting opportunity for you to double the impact of your recent donation: corporate matching gifts.
Many companies offer matching gift programs, which means they match donations made by employees to eligible nonprofit organizations. Take a few minutes to explore your company's matching gift program. In doing so, you can unlock the potential to double the value of your contribution to our environmental initiatives.
Find out if your employer participates in matching gifts! Just click on the 'Matching Gifts' tab on our website for more information. Your generosity, combined with your employer's support, can make a significant difference in our efforts to protect the planet.
Thank you for considering this opportunity to maximize your impact. Together, we can create a sustainable future for generations to come.
Best regards,
[NAME] [NONPROFIT]
Template #4: Website Copy
Calling all eco-conscious donors! Did you know that your employer might double your donation to [NONPROFIT]? Tens of thousands of companies offer these generous giving initiatives. And more than 26 million individuals qualify to have their donations matched to charitable causes like ours!
And the process to do so is simple —
Step 1: Look into your company's matching gift program by searching the matching gift database embedded in the page.
Step 2: Locate your employer's matching gift submission requirements and complete the dedicated request process.
Step 3: Wait while your company processes the request, approves your match, and contributes to our organization on your behalf.
Remember: together, we can create a greener world!
Template #5: Direct Mail Insert
Header: Double Your Impact for a Greener Tomorrow!
Your dedication to preserving our environment through your support of [NONPROFIT] is truly inspiring. We want to share an exciting opportunity with you to make an even greater impact!
Did you know that many companies offer matching gift programs for their employees? This means that your employer might be willing to match your donation, doubling the impact of your gift. By leveraging a matching gift program, you can amplify your contribution and help us protect our planet for future generations.
Take a moment to check if your employer participates in matching gifts. Scan the QR code below to visit our website for more information. Together, we can create a greener tomorrow for a more sustainable world.
---
Wrapping Up
As you continue your journey to protect and preserve the world around you, matching gifts should remain at the forefront of your fundraising strategy. After all, this valuable⁠—yet continually underutilized⁠—source of support is crucial for maximizing fundraising efforts.
Remember, the key lies in effectively communicating the matching gift opportunity to your nonprofit audience. In doing so, you can empower supporters to strengthen their commitment to your cause. And together, with the support of matching gifts, you can play a key role in establishing a sustainable future.
Interested in learning more about matching gifts for your organization? Check out these additional recommended guides: