In the world of nonprofit fundraising, one valuable⁠—yet often overlooked⁠—resource is that of corporate matching gifts. These programs empower donors to multiply their contributions by requesting matching gifts from their employers. But, like any fundraising strategy, there are a few commonly faced matching gift roadblocks that nonprofits and other organizations must navigate in order to make the most of the opportunities available.
If you're a fundraising team looking to generate additional revenue through employer matching gifts, you've come to the right place. Throughout this guide, we'll delve into various roadblocks that nonprofits tend to face when it comes to matching gifts. Then, we'll tackle each issue head-on and offer practical solutions that have proven successful for nonprofits like yours.
These include the following common challenges:
Absence of an internal matching gift fundraising plan
Lack of donor awareness surrounding the initiatives
Unknown donor eligibility regarding matching gifts
Incomplete match requests by program deadlines
Insufficient staff resources for pursuing matching gifts
Limited tracking through the match lifecycle
Whether you're just starting to explore matching gifts or have already encountered these hurdles firsthand, this resource will provide you with the knowledge and strategies needed to unlock this valuable revenue stream.
Let's get started!
Roadblock #1: Absence of an internal matching gift fundraising plan
Matching gifts can provide nonprofits and schools with a powerful and widely accessible form of revenue that brings their existing fundraising strategies to new heights. However, many organizations continue to take a passive, "If it happens, it happens" approach to matching gifts.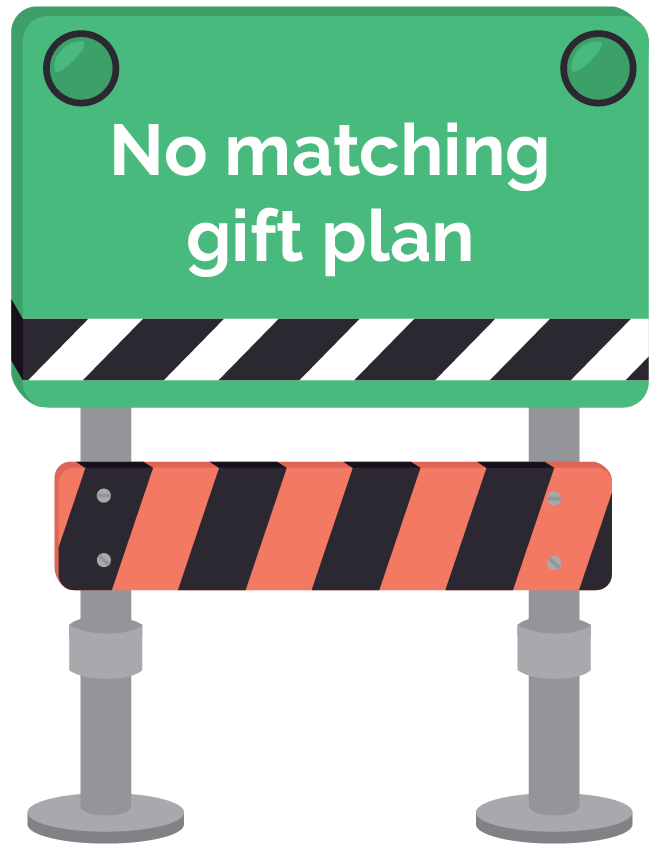 In reality, though, a proactive matching gift strategy can go a long way. In fact, if your organization's whole team⁠—including board members, fundraising professionals, marketers, and more⁠—is not on board with corporate matching gifts, you're likely to miss out on a ton of opportunities for your cause.
Solution #1: Establishing and communicating a strategic matching gift roadmap
Without a well-thought-out plan, it can be challenging to effectively leverage matching gifts and maximize fundraising. The answer? Developing a strategic matching gift roadmap to guide your team's efforts toward success.
This should include:
Defining your goals: Begin by setting specific goals. Determine how much funding you aim to raise through matching gifts and identify the key areas or projects that will benefit from these additional resources. Having clear objectives will help inform the rest of the roadmap for your efforts.
Educating your team: Ensure that your staff, board members, and volunteers are aware of the potential of matching gifts and understand the process involved. Provide training and resources to familiarize them with the basics of matching gifts, including the benefits and impact they can have on your organization. When informed, your internal team can be some of your greatest proponents of matching gift opportunities!
Developing a communication strategy: Craft a clear and compelling message about matching gifts to communicate with your donors and supporters. Then, utilize various marketing channels such as email, social media, and your website to educate and motivate donors to participate.
Uncovering match-eligible donors: Identify and familiarize your team with companies that offer matching gift programs⁠—including their eligibility criteria, match ratios, and submission procedures. From there, you'll want to collect donor employment information and establish which individuals work for companies that match! This information will help you tailor your messaging and outreach efforts accordingly.
Monitoring and tracking matching gift success: Don't forget to regularly monitor the progress of your matching gift program, either! Keep track of match-related metrics such as the number of matching gift requests received, total funds raised, the impact on your overall fundraising efforts, and more. Use this data to evaluate the effectiveness of your strategy and make adjustments as needed.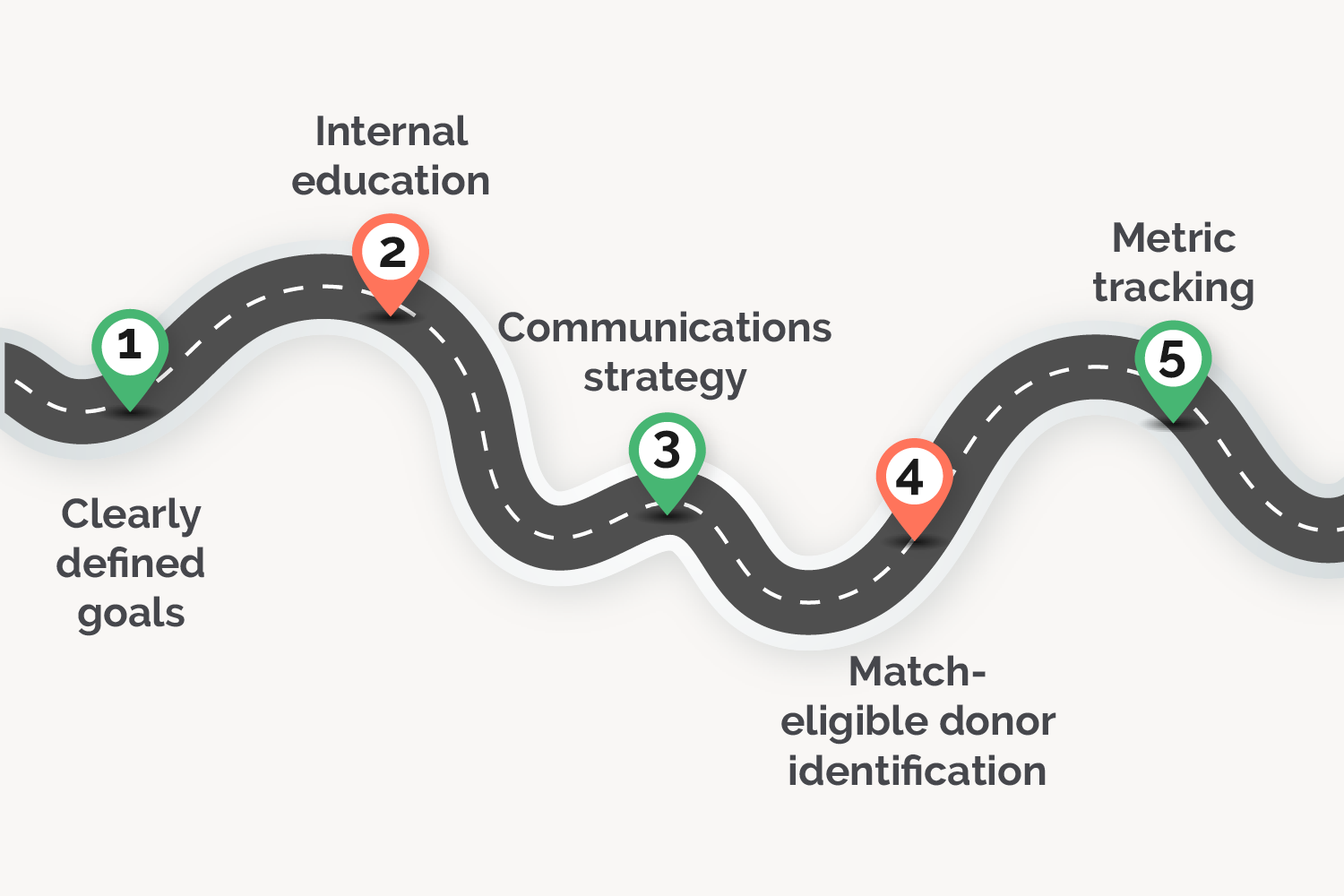 Roadblock #2: Lack of donor awareness surrounding the initiatives
Despite more than 26 million individuals working for companies that match employee donations, studies indicate that an estimated 78% of the group has never been informed about the opportunity. And when match-eligible donors remain unaware of their employers' match initiatives, they're not able to participate in the programs!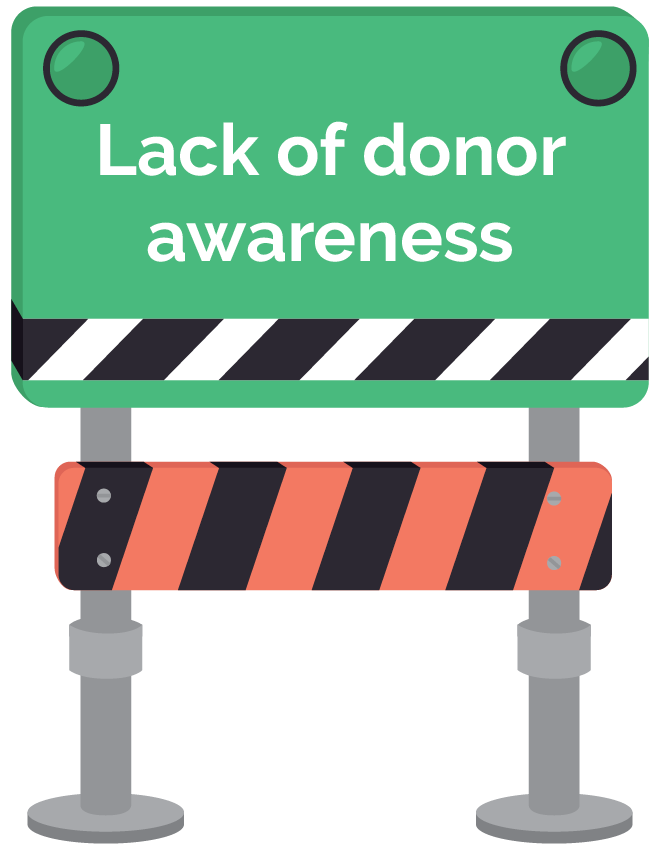 Ultimately, this is one of the most significant matching gift roadblocks facing nonprofits and their donors. In fact, a lack of awareness is a significant factor in the resulting $4 to $7 billion worth of matching gift funds going unclaimed each year.
Solution #2: Marketing matching gift opportunities through multiple channels.
Many companies offer to match employee donations to qualifying causes but don't actively promote the opportunity to their workforce. That's why nonprofit organizations are increasingly taking the initiative to market matching gifts themselves.
We recommend taking a holistic marketing approach that incorporates all of your favorite donor communication channels. This might include your…
Website (with a detailed matching gifts page, a section in your "Ways to Give" page, blog posts, navigation menu, etc.)
Donation process (specifically with a company search tool on your giving forms and a blurb directing donors to take suggested next steps on the confirmation screen)
Email (through acknowledgment emails, dedicated matching gift follow-ups, staff email signatures, donor newsletters, end-of-year reminders, and more)
Social media (sharing posts, stories, and videos on your Facebook, Twitter, Instagram, LinkedIn, and more)
Direct mail (including, but not limited to, matching gift letters, postcards, inserts, return envelopes, and welcome packets)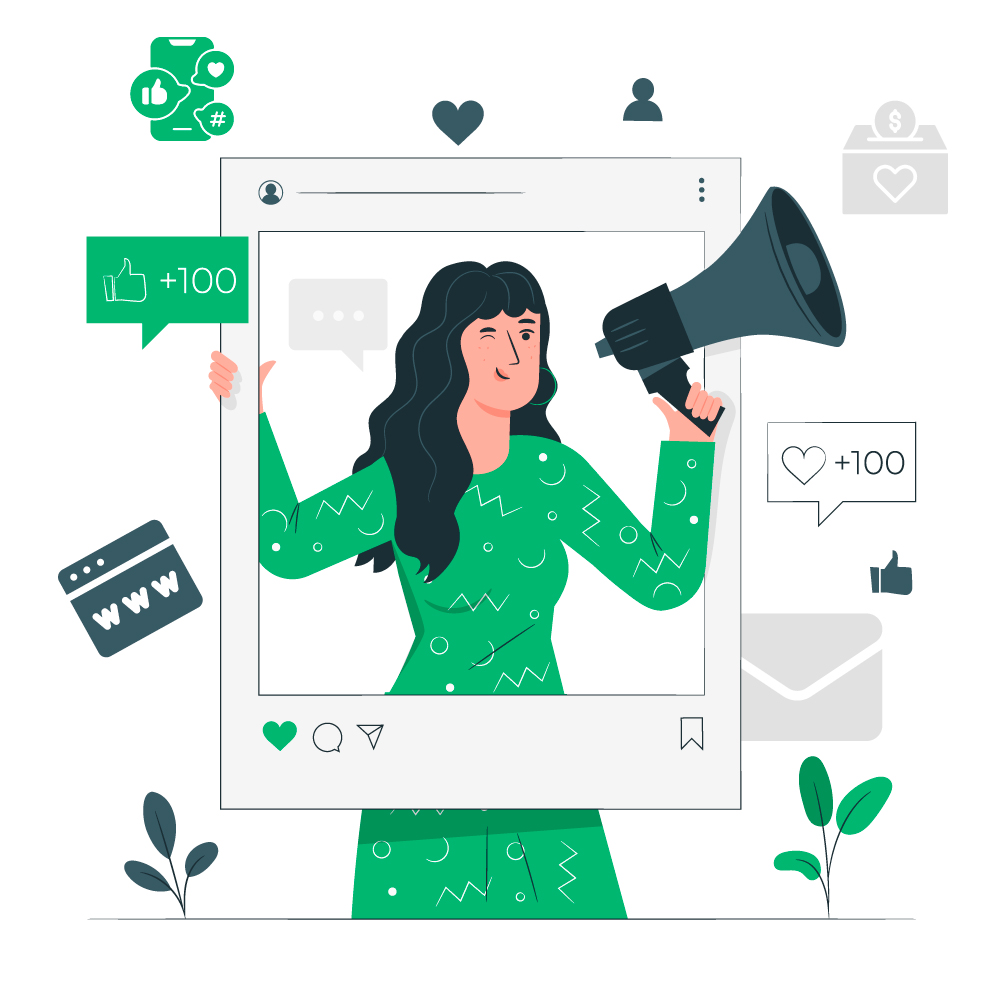 Regardless of the channels you choose, be sure to develop engaging content that highlights the impact of matching gifts for your mission. Craft persuasive messaging that communicates the value and importance of donor participation in matching gift programs and inspires individuals to take their next steps.
Once your supporters are familiar with the idea of matching gifts, they'll be more likely to get involved.
Roadblock #3: Unknown donor eligibility regarding matching gifts
Without knowing which companies your donors work for, it can be difficult to determine if their employers match—and whether they'd qualify for that program specifically.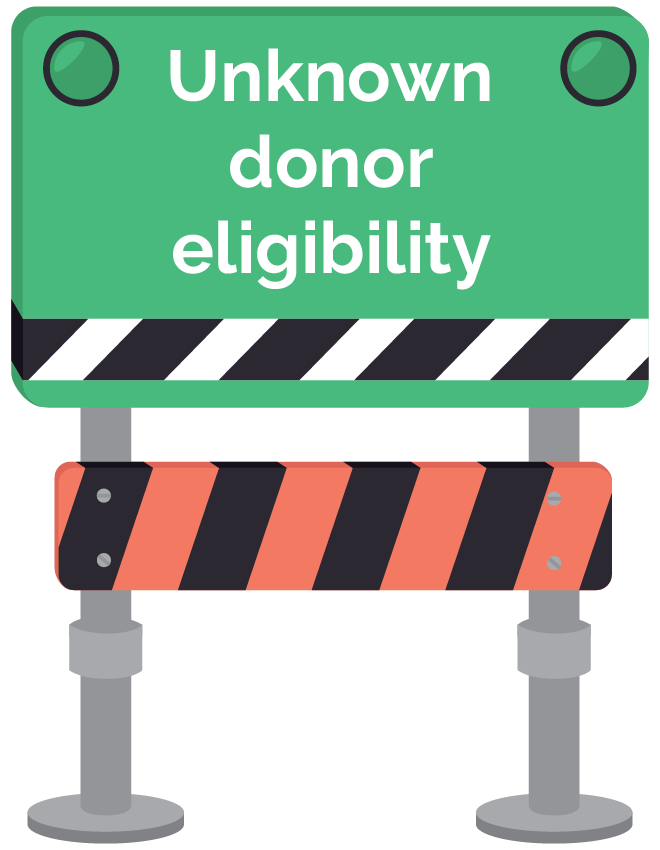 After all, we previously mentioned that most eligible donors have no idea that their companies offer such programs. Thus, it's a good idea for your organization to take the initiative to uncover match-eligible donors on your own.
Solution #3: Using numerous screening methods to determine employment information
When it comes to identifying matching gift opportunities, the most crucial piece of information you'll need pertains to your donors' current employment. Fortunately, there are a few key ways to collect this information.
These include…
Email domain screening ⁠— If a donor inputs their email address as "johndoe@waltdisney.com" when completing the giving process, you can likely assume that the individual works for the Walt Disney Company. Make a note of this information for future reference!
Donation page search tool ⁠— Embedding a company search tool on your donation form or confirmation screen empowers donors to look into their employers' programming. Plus, it can record the company name that an individual inquires about and store the information in their donor record.
Post-transaction follow-ups ⁠— For donors who opt not to provide employment details while giving, you'll want to trigger post-donation emails that encourage supporters to share the information after the fact. This can include a link to the same company search tool that records individuals' responses to enable tailored outreach moving forward.
Employer appends ⁠— Working with a third-party data appends service can provide your team with access to additional employment information you were unable to uncover on your own. Typically, all you need to do is locate an employer appending company and share the data you do have regarding your donors with unknown employers. The service company scans the details provided against its comprehensive datasets and matches individuals with employment information with relatively high levels of accuracy.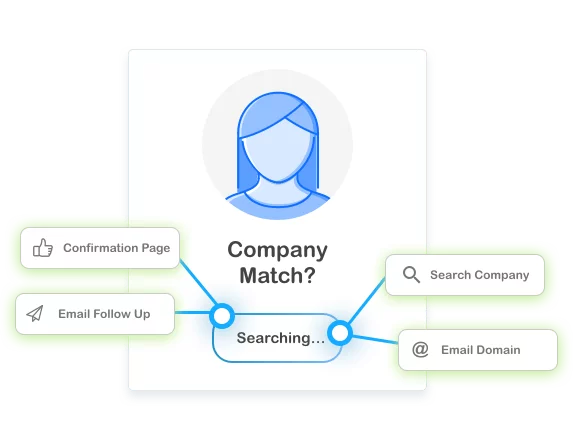 You don't have to choose just one method, either. According to our research, leveraging multiple approaches for obtaining employment information results in an average of 77% more match-eligible donations being identified. And once you have access to this information, you have what it takes to more effectively uncover and pursue matching gift opportunities.
Roadblock #4: Incomplete match requests by program deadlines
Another common matching gift roadblock occurs when donors, regardless of whether they're aware of the opportunity, simply do not complete their employers' submission forms prior to the associated deadlines.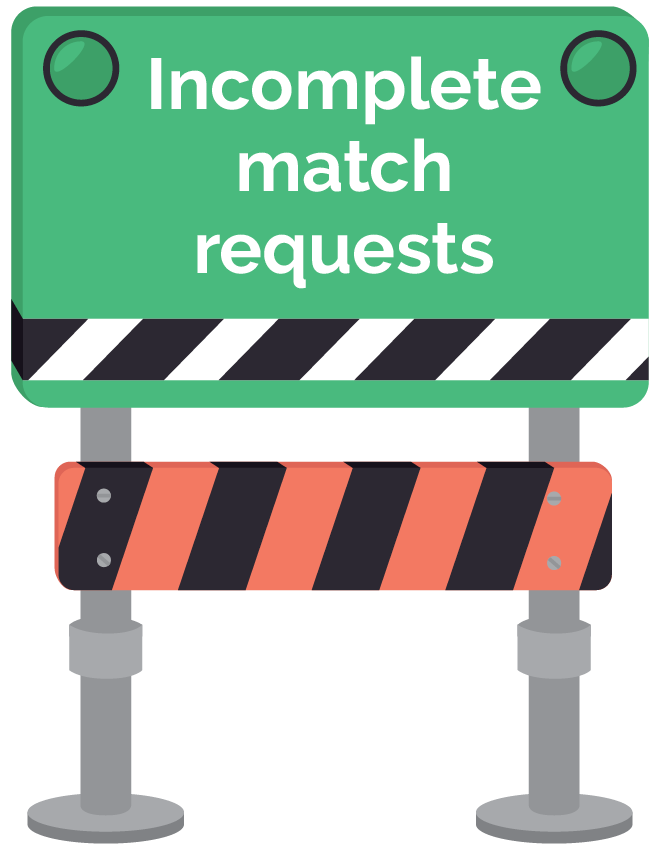 Even when a company offers a matching gift program, if a donor fails to submit their request for a match in time, your organization is not going to receive a corporate gift in response.
Solution #4: Following up with post-transaction matching gift reminders
Sometimes all it takes is a well-planned reminder or two to encourage donors to complete the matching gift submission process.
By following up with donors soon after they make their initial gifts, your nonprofit can remind donors about the availability and impact of corporate matching. That's usually enough to inspire qualifying individuals to complete the steps for their employers! And for unclaimed matches, you can even trigger end-of-year matching gift reminders as well⁠, prompting donors to submit their matches before the year's end⁠—which is a popular request deadline.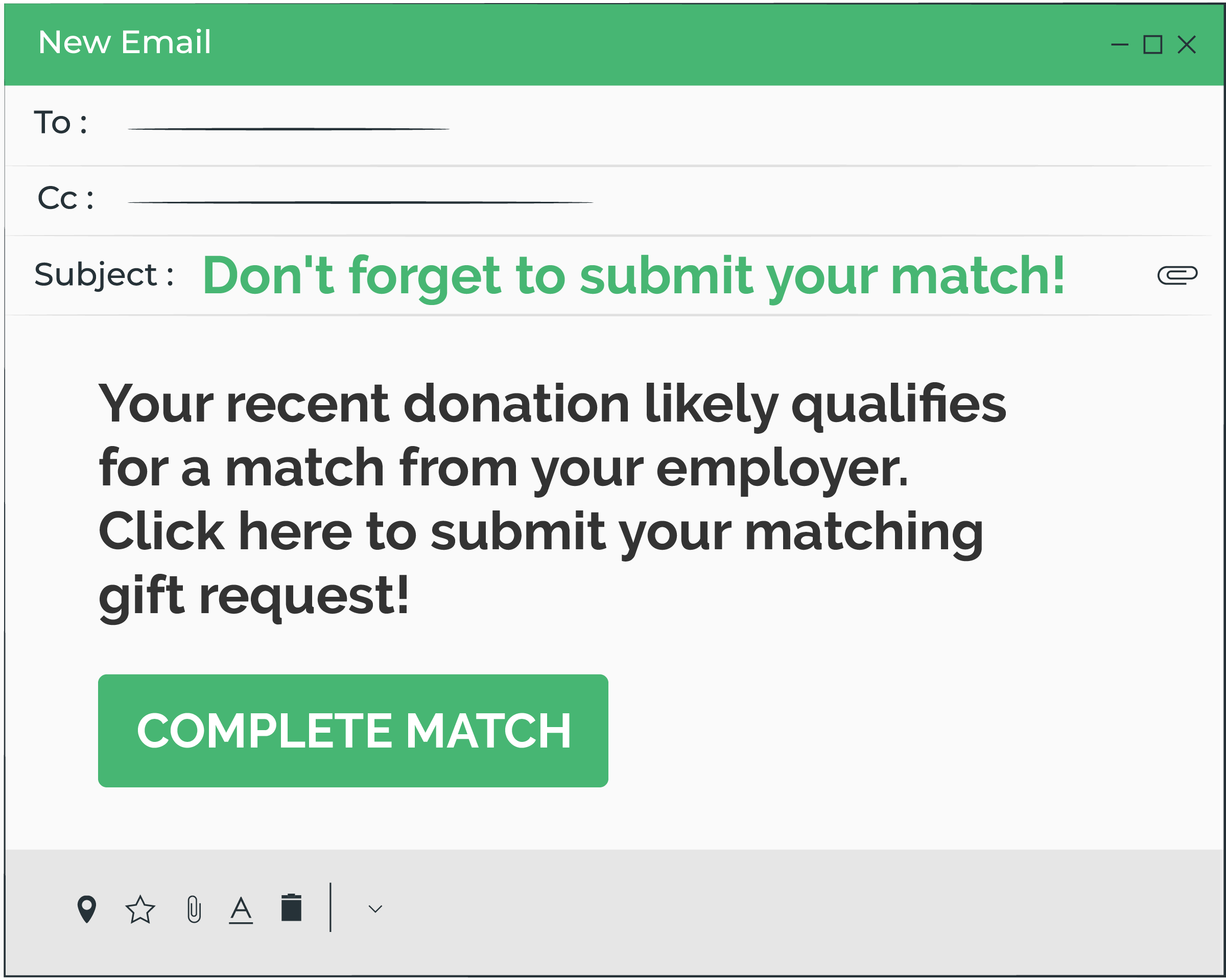 Through a combination of donation acknowledgment emails, post-donation matching gift outreach, and more, you can ensure that donors are aware of matching gift opportunities, complete match requests, and meet program deadlines⁠. Thus, maximizing your potential for funding.
Roadblock #5: Insufficient staff resources for pursuing matching gifts
Taking a manual approach to matching gift management and promotion typically requires a significant investment of an organization's resources⁠. Thus, short supplies of time, effort, personnel, and more can hinder an organization's ability to fully leverage matching gift programs.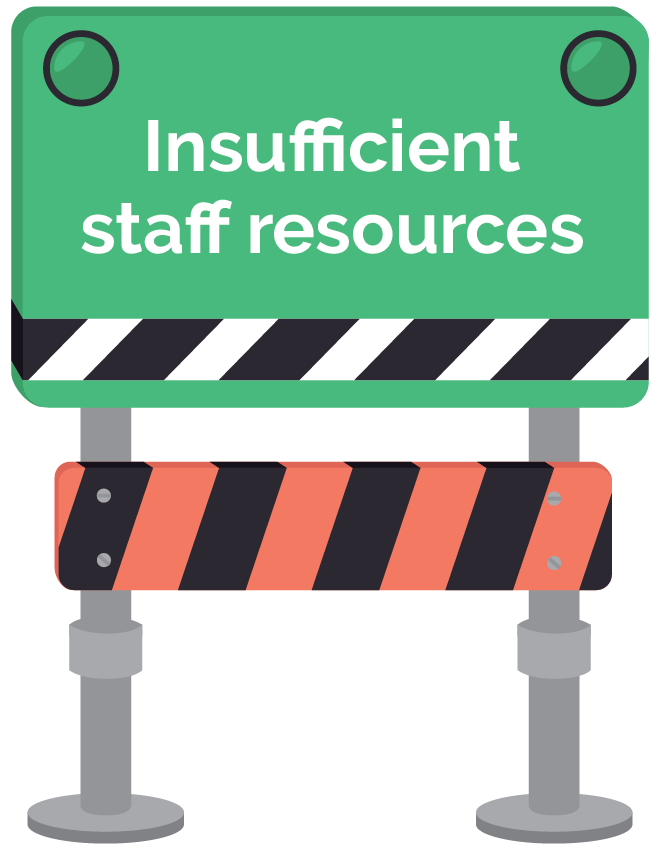 In fact, according to statistics from Nonprofits Source…
"80% of nonprofits said they have difficulty building strong corporate partnerships and workplace giving strategies with limited staff and resources."
With many organizations' fundraising and day-to-day operations already stretched thin, this finding highlights the challenges that teams often face when aiming to ramp up their matching gift efforts without the right tools in their toolkits.
Solution #5: Automating the matching gift experience with dedicated technology
No time to pursue matching gift opportunities on your own? No problem. Nowadays, there's technology for that! Like many other aspects of the fundraising process, smart software solutions can streamline organizations' efforts and ultimately raise more.
If a lack of time and energy is holding you back, it's probably time to invest in a dedicated matching gift platform to automate the process from start to finish. These tools, like Double the Donation's industry-leading solution, 360MatchPro, can help identify matching gift opportunities, trigger personalized donor outreach, and provide detailed reporting capabilities that drive results without you lifting a finger.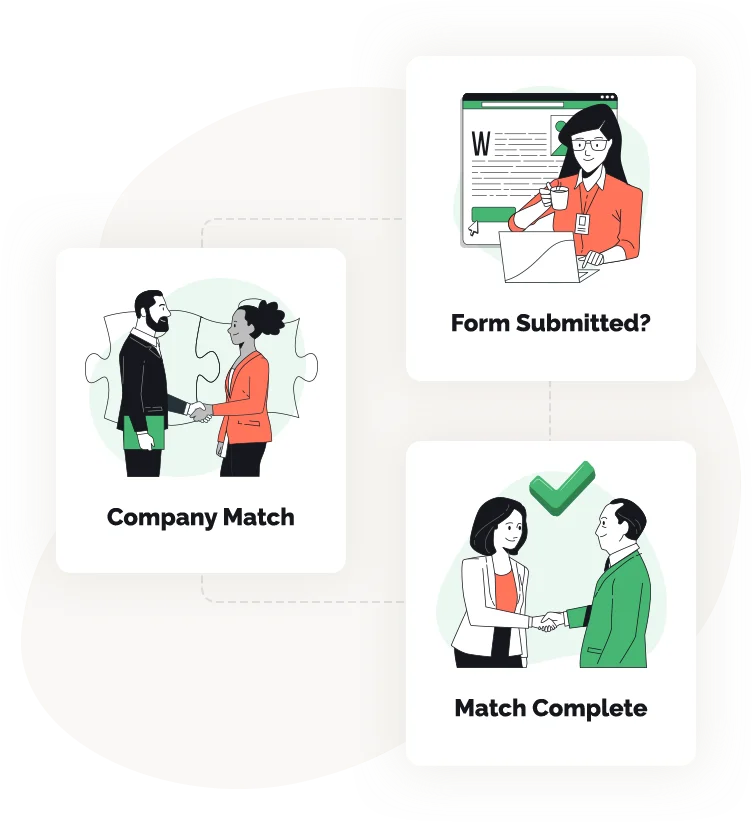 Employing such a tool ultimately empowers organizations like yours to reduce the manual effort required from their staffs, allowing them to focus on other critical fundraising and mission-focused activities.
Roadblock #6: Limited tracking through the match lifecycle
Another roadblock nonprofits often encounter has to do with a lack of tracking capabilities through the match lifecycle. Even after guiding donors directly to their online submission forms, many organizations ultimately have no idea whether their donors complete the process. Let alone whether their employers are approving and disbursing their matches.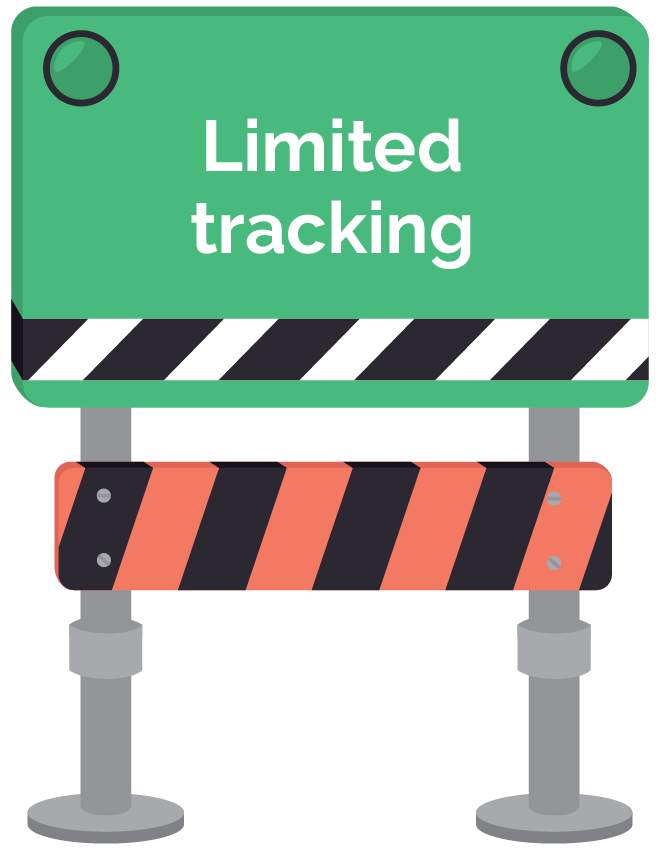 Inadequate tracking can result in a lack of transparency, difficulty evaluating the effectiveness of an organization's matching gift efforts, and missed opportunities to appreciate and acknowledge completed matches.
Solution #6: Using data and encouraging donor communication throughout the process
The #1 way you can utilize effective matching gift lifecycle tracking is to communicate with donors throughout the matching process. Plus, you'll want to encourage supporters to keep your team informed, as well.
For example, when you send matching gift reminders encouraging recipients to submit their match requests, incorporate an easy way for them to let you know when they complete the process. It can be as simple as a button that says, "I've submitted my match!"
This way, you'll know to thank the individual for taking steps to secure a match on your behalf, keep an eye out for additional information being asked of your organization (i.e., to verify the initial contribution), and better forecast incoming matching gift revenue. If you see that a potential match is stuck at a particular stage for any length of time, you can enlist targeted efforts to push that match to the next step.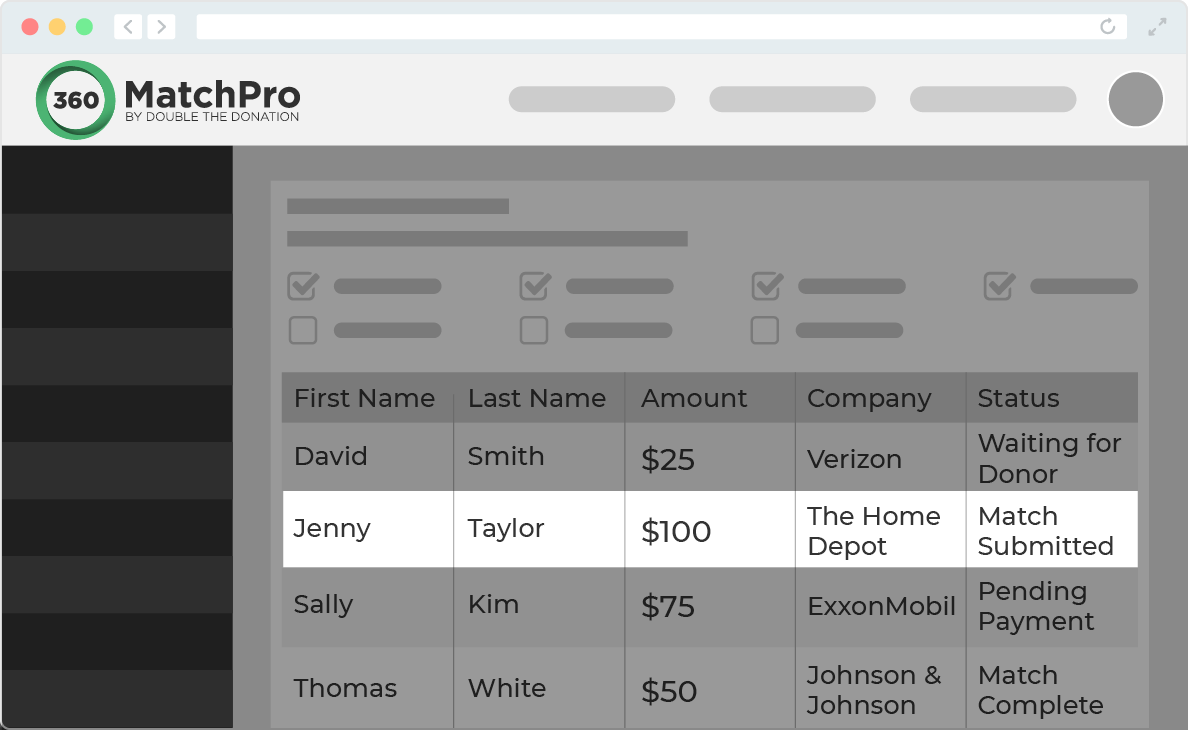 You'll want to implement tracking and reporting systems that capture and store data related to matching gift opportunities. Then, follow them through to completion. Ensure your systems track the status of match requests, identify funds received, and record the impact of matching on fundraising. From there, regularly review and analyze this data to gain insights and optimize your matching gift program accordingly.
---
Next Steps
Every matching gift roadblock presents an opportunity for growth. By proactively addressing these challenges, your nonprofit can tap into the immense potential of workplace giving to fuel your mission.
As you move forward, keep in mind that donors love participating in their employers' matching gift initiatives. They typically just need a gentle push in the right direction!
Ready to learn more about overcoming matching gift roadblocks and enhancing your organization's corporate fundraising strategy? Check out these recommended resources:
8 Ways to Encourage Donors to Submit Employee Matching Gift Requests. This comprehensive guide shares several methods for motivating donors to complete matching gift requests, thereby maximizing fundraising potential. Explore practical strategies to inspire action and secure additional revenue for your cause.
What You Need to Know About Retaining Matching Gift Donors. Dive into the importance of donor retention for matching gifts. Find out how to cultivate long-term relationships with matching gift donors, build personalized stewardship plans, express gratitude, and more. In the end, it helps ensure continued support and sustained impact.
5 Fundraisers with Standout Matching Gift Success. In this inspiring blog post, discover five real-life fundraising organizations that achieved remarkable success with matching gifts. Learn from the strategies that led to outstanding matching results and see which practices you can leverage for your cause!