Your nonprofit likely has an online donation page that acts as your online fundraising hub. But nowadays, it's not enough to just have an online donation form. To stand out from the crowd and raise more online, your giving page must foster a positive, engaging donation experience for supporters.
When you combine a positive user experience with features and page elements that encourage supporters to increase their donation amounts, you can raise more using your online donation form. In this post, we're going to cover five top tips for boosting donation revenue using your giving page itself.  Let's begin. 
1. Offer suggested donation amounts
Suggested donations are the giving options that you highlight on your online giving form, making it easy for donors to select their desired gift amount. 
Offering multiple options allows donors to choose the option that works best for their budget. Plus, donors might upgrade their donation amount after reviewing your suggestions. Maybe a donor clicks on your donation page intending to give $10 but sees that your first suggested donation is $25. This could encourage them to increase their gift amount to conform with the type of donations your organization is looking for. 
Bloomerang's guide to suggested donations recommends highlighting your most popular donation amount. For instance, you might include a small arrow pointing to one of your donation options with a note that says "most people give X." The CARE online donation page has an excellent example of what this looks like:

When faced with indecision, people tend to default to the social norm. Pointing out your most common donation amount reduces uncertainty and can help donors choose their donation amount faster and more confidently.  
2. Connect donation amounts to different impacts
When donors can visualize the impact of their gifts, they may be encouraged to increase their gift size. Use your suggested donation amounts to help donors make connections between their donations and real-life impacts. 
For example, let's say you're raising money for your nonprofit's community vegetable garden. You might list these suggested donations and related impacts: 
A $25 donation funds a gardening kit for a new community gardener, complete with gloves, seed packets, and a watering can.
A $50 donation helps provide new equipment investments, including shovels, rakes, hoes, and trowels. 
A $100 donation can help buy materials to support your garden expansion project, such as lumber and planter boxes. 
Providing impact examples helps donors see exactly how much more they can help your organization by giving at higher levels.
3. Highlight matching gift opportunities
Matching gifts are an effective but frequently overlooked opportunity to maximize online donations. In corporate matching gift programs, businesses match the gifts that their employees make to eligible nonprofits.
Highlight matching gift opportunities directly on your giving page to inform supporters of these opportunities. Embed a matching gift database into the form so donors can quickly research their eligibility and access the forms they need to fill out to request a match. This simplifies the matching gift process, making it easier for donors to take advantage of these opportunities. 
4. Make it easy to become a monthly donor
Offer a button on your giving page for donors to easily turn their one-time gift into a recurring monthly donation. The easier you make it to become a recurring donor, the more donors you'll recruit to your program. For example, look at how the Doctors Without Borders donation page encourages monthly gifts: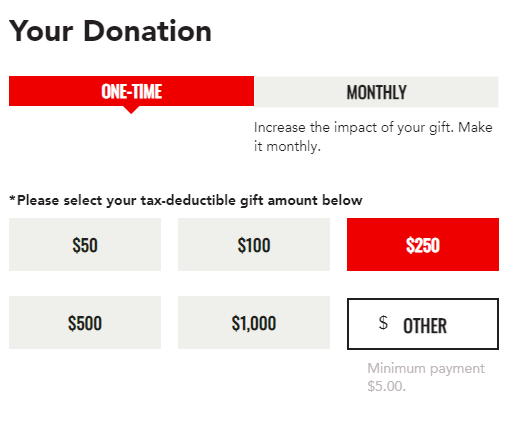 If you offer any monthly giving program benefits, such as free merchandise or access to exclusive publications or events, highlight those benefits directly on your donation form. 
5. Foster ongoing relationships.
You can increase future donations by using your online giving page as the first step in your larger donor stewardship strategy. Use your donation page to collect donor information, including their full names and email addresses. Then, follow up with personalized appreciation emails that address donors by name and reference their specific donation amount. 
Once you have this valuable donor information, you can add donors to your organization's CRM and carry out a variety of donor stewardship and outreach activities, such as inviting donors to events or volunteer opportunities. This helps increase your donor retention rate, growing your loyal base of support. 
Using these tips, you can design a giving page that not only improves the donor experience, but also boosts your total online donation revenue. And with a comprehensive stewardship plan, you can retain your online donors well into the future.