A constituent relationship management (or CRM) solution allows an organization to track its relationships with key constituents. Nonprofit CRM software is a specific system designed for charitable organizations to manage and streamline their fundraising and engagement efforts. It serves as a central database that stores and organizes information about donors, supporters, volunteers, staff members, and other key stakeholders. And it should be an integral part of an organization's fundraising tech stack!
A nonprofit CRM can also be referred to by many names⁠—including donor management software, donor database, fundraising CRM, and more. But regardless of what you call it, the basic premise is the same. CRM software records supporter data and tracks involvement with an organization. Nonprofits use the associated tools to organize data better, manage their supporter relationships more effectively, and practice more efficient and successful fundraising.


And whether you're looking to purchase a CRM for the first time or you're considering a system upgrade, you've come to the right place! We'll walk you through key steps in the buying process, which include the following:
Build better relationships and organize your outreach effectively using top-notch donor management tools. By the end of this guide, you'll have what you need to make an informed decision about your nonprofit's CRM.
Assessing Your Nonprofit CRM Needs
When it comes to choosing a CRM for your organization, it's essential to consider your needs before diving into the selection process. 
For smaller nonprofits, a CRM with all the bells and whistles may not be necessary at this stage. Not only can more complex software be increasingly costly, but it also requires a greater investment of time and effort to implement and maintain. Instead, focus on securing the basics⁠—such as comprehensive donor profiles and intuitive fundraising tools⁠—that allow you to better connect with your audience.
On the other hand, larger organizations may want to look for a solution that offers high levels of customizability. You likely have larger-scale technology needs as well as the development team to manage it.
In any case, scalability is another key factor. Your chosen CRM should have the capacity to grow with your organization as you continue to acquire supporters. Otherwise, you'll be back shopping for a new solution sooner rather than later.
Thus, it's important to strike a balance.
Additionally, it's a good idea to identify the pain points in your current CRM or data management strategy⁠. This might include manual data entry, limited reporting capabilities, or difficulty in tracking donor interactions. Proactively assessing these challenges will help you seek out specific features and functionalities in the new software you choose.
Some CRMs even offer tools like membership, volunteer management, or event planning capabilities. However, as with most facets of CRM software, the features you'll receive depend on the vendor you work with.
Take the time to evaluate your specific needs, prioritize key features, then scope out a vendor that provides the functionality you want. Remember: while CRM software can benefit any nonprofit, it's best to find a solution that aligns with your organization's unique goals and priorities.
Researching Donor Management Software Options
Once you know what you're looking for, begin exploring potential vendors that might be a good fit for your team. CRM software is a significant investment, so it's crucial to conduct thoughtful research before you sign the contract.
To hone your search, we recommend making a list of top possibilities. You can even make a pros and cons chart to help organize your thoughts!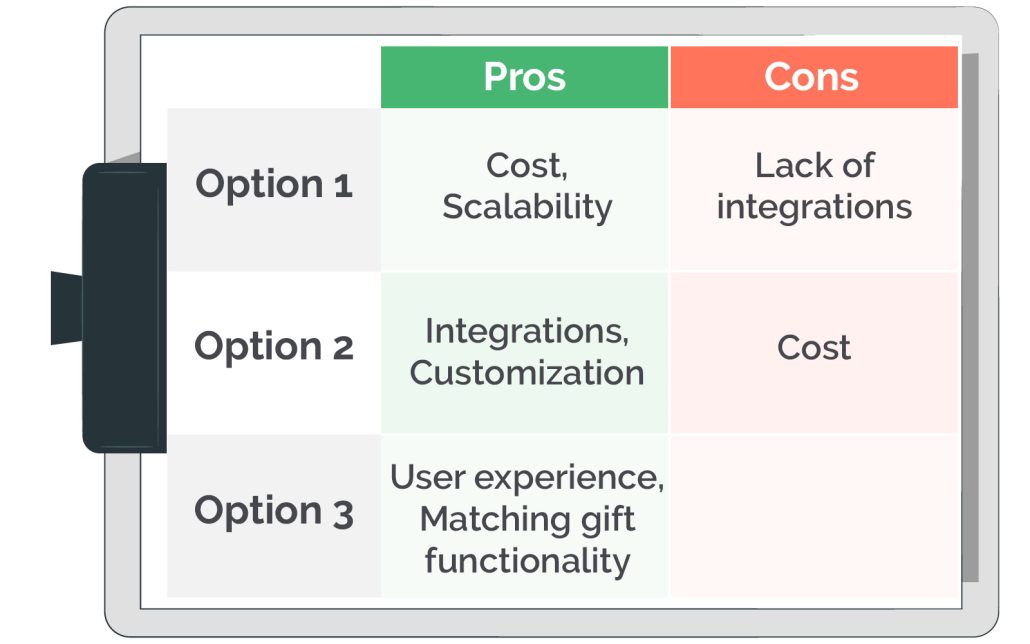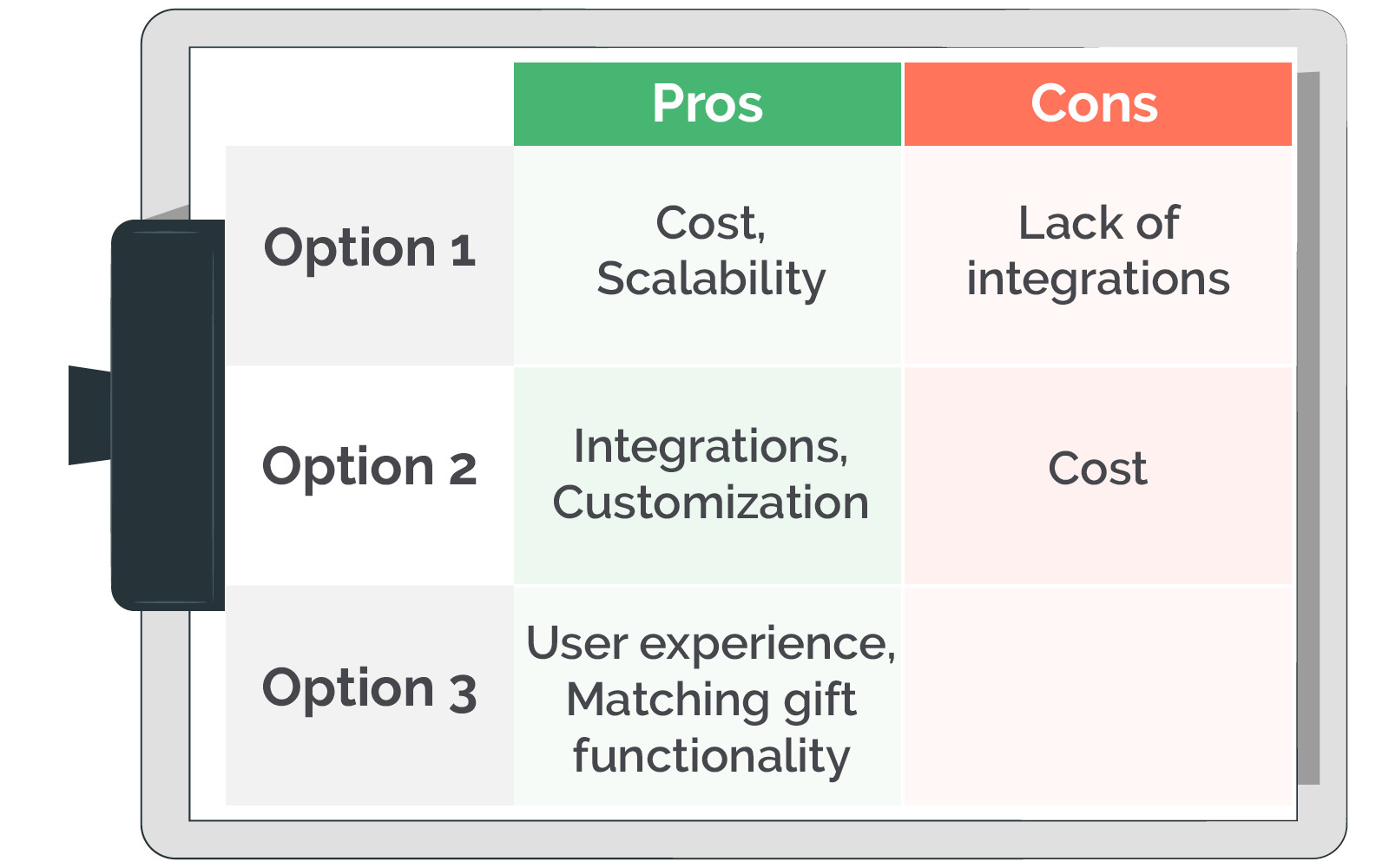 From there, it's crucial to consider reviews and case studies. It never hurts to get a second opinion⁠—especially if the opinion is from an organization that has used the software. Many vendors also provide on-demand demos or recorded walk-throughs of the software, which can be helpful at this stage in the process.
Ultimately, you'll want to shortlist vendors whose services and features might fit your needs. Then, compare and contrast your list of prospective CRMs based on the criteria listed below.
Factors to Consider in the CRM Selection Process
A lot goes into making the right software decision for your nonprofit team. We recommend weighing these essential factors and determining the best fit.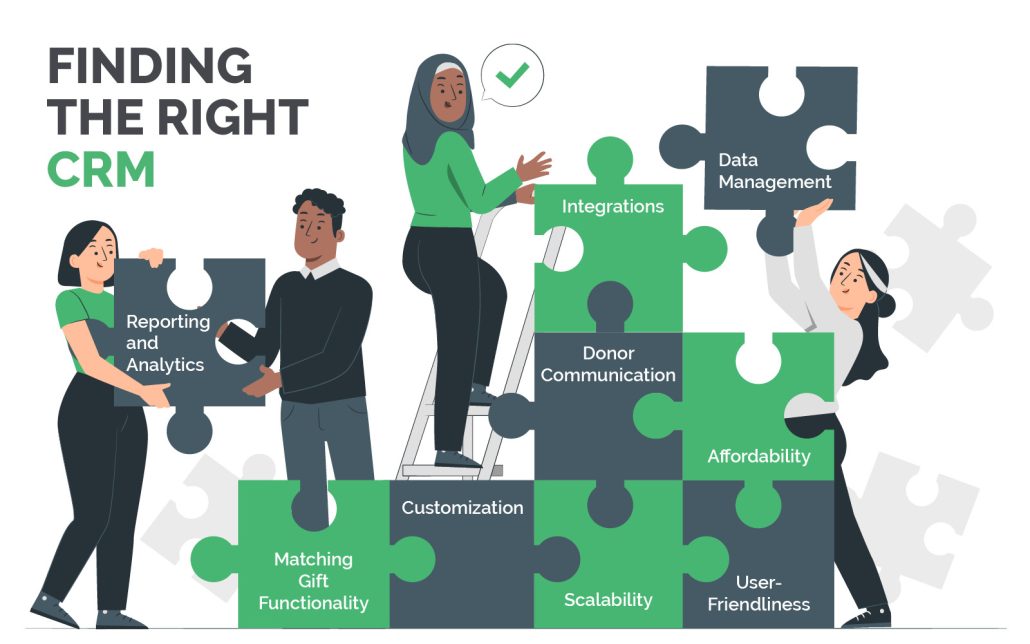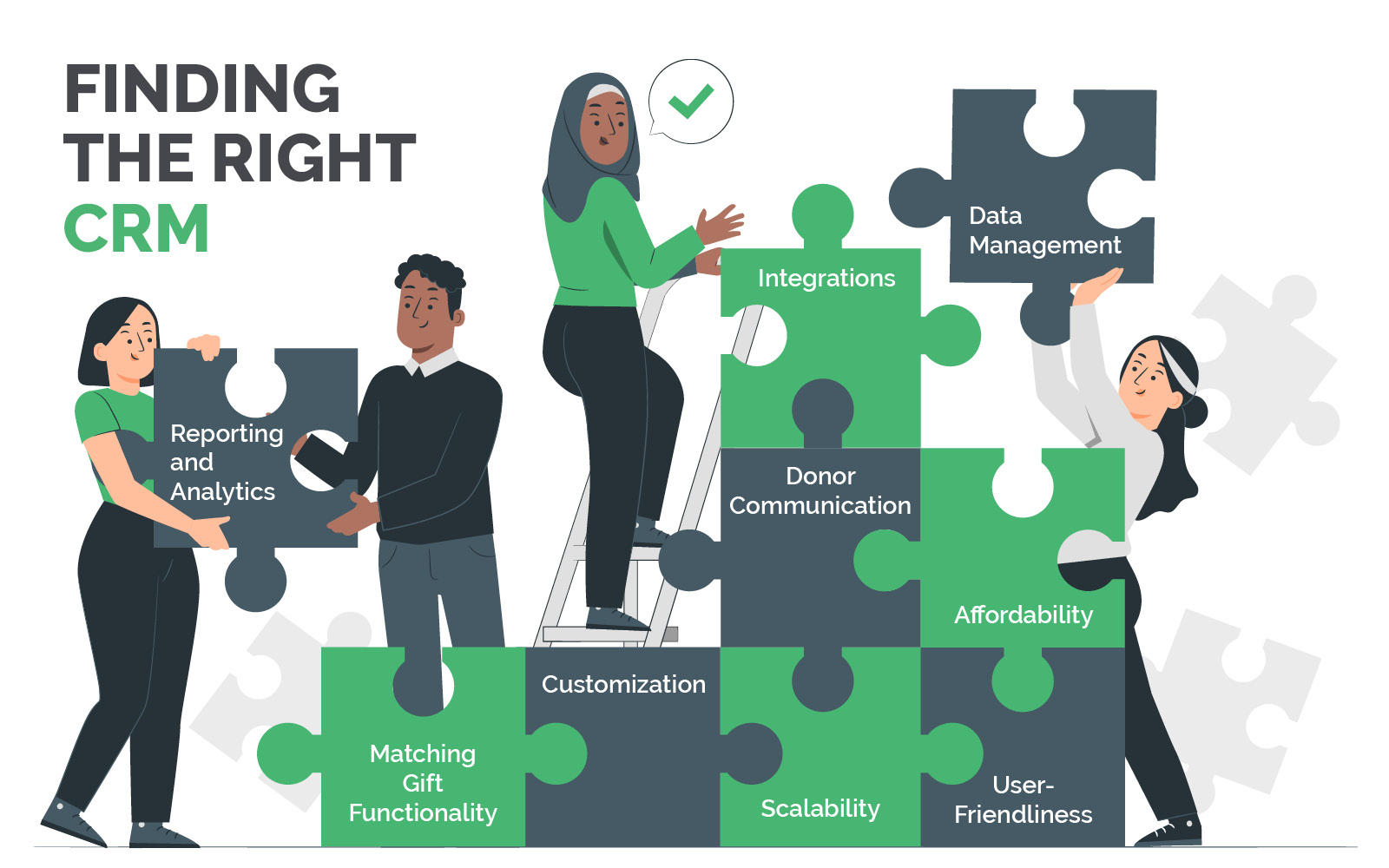 Integrations
Gone are the days when nonprofits kept their software in separate "silos." Now, CRMs are designed to provide a centralized location for data management. Consequently, integrations with your fundraising software⁠ should including…
Donation tools — Donation tool integrations allow a nonprofit CRM a direct connection to receive and track donations, streamlining the donation process, enhancing donor security and trust, and enabling organizations to monitor fundraising efforts with ease.
Peer-to-peer fundraising platforms — Similarly, donations made through peer-to-peer initiatives should flow seamlessly into your organization's CRM as well. For the same reasons, this enables nonprofits to raise more through social fundraising while maintaining effective engagement reporting strategies.
Event software — Nonprofit events produce a ton of constituent data, and an event software integration enables efficient management and coordination of event-planning and hosting. This should include automatic tracking of registrations, ticketing, and attendance that can help inform future fundraising event efforts.
Marketing tools — Your CRM may contain some basic marketing and engagement functionality, but dedicated marketing software can significantly expand your horizons. When your donor database integrates with your marketing tools, it'll be easy to trigger personalized and segmented messaging to each donor through a range of communication channels.
Volunteer management software — Integrating with a volunteer management software system (or VMS) allows nonprofits to efficiently track, organize, and communicate with volunteers. This tool typically invovles volunteer-specific functionality, like online scheduling tools and automated shift reminders, and an integration ensures that engagement information makes its way back to your primary database.
Matching gift technology — A matching gift CRM integration automates the identification and tailored follow-ups for matching gift opportunities within your database. This type of software partnership is vital for successful fundraising as it doubles the impact of individual donations, increases revenue without requiring additional donor contributions, and maximizes the organization's fundraising potential overall.
A powerful CRM should be able to seamlessly connect to the other tools you use and automatically pull data from these sources and more. But not all CRMs are easily integrable with all fundraising platforms, so be sure to check with your vendor during the buying process.
It's also important to recognize that some integrations, while available, can take a significant amount of time and money to configure. All in all, the ease of integration depends on the software you're trying to integrate. Keep an eye out for turnkey or native integrations that are ready-built and require little to no development work to set up. Alternatively, anything involving custom APIs is going to require a more technical and hands-on process to establish.
Functionality
While CRMs vary widely in the scope of their offerings, the following key features should be offered by any data management system you consider.
In-Depth Donor Profiles: Track everything from demographics to historical involvement—providing a holistic view of your supporters. The more information you have, the more relevant and engaging your communications will be.
Data Reporting: Generate various in-depth reports, including a comprehensive birds-eye view and robust individual reporting. Not to mention, configure custom reports to receive organization-specific insights.
Email Automation: Consider your ability to send automated email campaigns to the donors in your database. Plus, customize outreach to reflect a tailored engagement approach and a consistent nonprofit brand.
List Segmentation: Craft highly relevant, tailored messages with list segmentation capabilities. Organize and trigger outreach to specific groups based on various criteria such as demographics, giving history, employer, engagement level, and more.
Matching gift capabilities
Matching gifts are essentially the "Buy One, Get One Free" sale of the nonprofit world. This powerful funding source has the potential to elevate any organization's fundraising and engagement efforts, and the right CRM system can make it easy to do so. All it takes is integrating your CRM with a matching gift tool like 360MatchPro.
If you don't want to miss out on this already underutilized revenue stream, be sure the donor management software you buy integrates with a matching gift platform! (Explore Double the Donation's nonprofit CRM partners here.)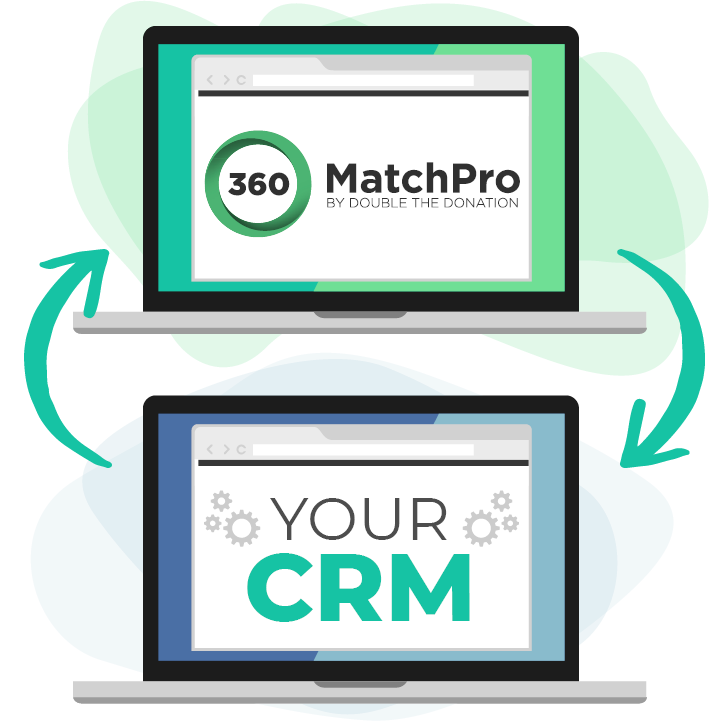 When enabled, incoming donation records will flow into 360MatchPro from your CRM. From there, the industry leading matching gift software will screen donors and filter by matching gift eligibility. The system will then trigger tailored outreach that encourages donors to submit their matches and secure additional funds for your cause.
This streamlines the processes involved with…
Promoting matching gift opportunities
Providing matching gift program guidelines and forms
Reminding donors to complete the process
Sharing customized and company-specific next step recommendations
Tracking matches every step of the way.
All in all, that means increased supporter engagement and increased funding with little to no extra work required of your staff! On the other hand, organizations that lack the tools and resources needed to power their matching gift fundraising efforts often leave significant amounts of funding on the table—to the tune of $4 to $7 billion each year!
With increased engagement, heightened funding, and efficient processes, integrating your donor management system with a matching gift tool opens up a world of possibilities for your nonprofit.
If you're interested in connecting your CRM to the industry-leading matching gift software provider, request a demo to get in touch with a member of our team.
Cost
Unfortunately, it costs money to raise money, and fundraising software is no exception. Therefore, it's important to set a clear budget⁠—and keep it in mind as you make your CRM selection.
Remember: the price listed on the vendor's website usually doesn't reflect the full investment. Donor management systems can have hidden costs, such as the number of profiles, payment processing fees, and training and support services.
User interface
A positive user interface (or UI) is critical because it directly impacts a CRM's overall effectiveness. A well-designed UI enhances user satisfaction, improves productivity and efficiency, reduces the learning curve, and encourages widespread adoption within the organization.
Thus, you'll want to look for a solution that offers a clean, well-organized layout with clear navigation and an intuitive design. Not to mention one that simplifies activities and automates repetitive processes to streamline workflows!
If you're able to get a trial of the software before making a commitment, be sure to keep the user experience in mind as you explore the database.
Cloud-based vs. onsite
When it comes to the way you access your nonprofit CRM, there are two main types of systems⁠—cloud-based and onsite.
A cloud-based CRM software is accessed via the Internet through an online login portal. Staff members can typically use the software from any computer, tablet, or smartphone. Many cloud-based CRMs even have mobile apps! This is ideal for organizations that need to operate their software on the go (such as during events and donor meetings). And it also enables you to provide users with varying levels of permissions access.
Onsite CRM software, on the other hand, is installed directly on a computer at your nonprofit's office. A more traditional solution, it can only be accessed from a single device at a set location. This type of software is generally used by larger organizations with ample resources to install and maintain the system. An onsite solution is also generally more secure than cloud-based software, and therefore must be used by certain nonprofits⁠—like healthcare organizations⁠—for data protection purposes.
Security and data privacy
A nonprofit CRM deals with a lot of sensitive donor information, and your supporters are trusting that you're handling it as such. Thus, data privacy and security should play a pivotal role in the decision-making process.
After all, protecting donor information, maintaining compliance with data protection regulations, and safeguarding against potential security breaches are crucial responsibilities for any organization. Items to consider include data encryption and tokenization, multi-factor authentication, PCI-compliance, customizable permissions settings, and more.
Making the Final Software Decision
Once you've conducted thorough research and narrowed your options for a new CRM, it's time to make your final choice. Follow these steps to ensure a smooth and successful decision-making process:
1. Contact vendors to take the next step. Reach out to the CRM vendors you're still considering. Work with the company to evaluate your specific needs and determine if their software aligns with your requirements. From there, the vendor will be able to provide further information and guidance.
2. Request a demo to see the software in action. Witness the CRM's features firsthand and address any questions or concerns you may have. A live demo allows you to visualize how the software functions and assess whether it meets your nonprofit's needs effectively.
3. Take advantage of free trials. Many CRM vendors offer free trials of their software. Seize this opportunity to get hands-on experience with the software. Testing it within your organization will give you a real sense of its usability and help determine if it's the right fit.
4. Seek input from key stakeholders. Since CRM software will likely impact various staff members' roles, it is crucial to involve them in the decision-making process. Gather input from your whole team to understand their expectations and the benefits they hope to gain from the platform. By aligning everyone's needs and goals, the implementation and training processes will run more smoothly, too.
5. Sign the contract! Once you've found the perfect CRM that meets your nonprofit's needs and aligns with your budget, you're ready to finalize the decision. Review the contract thoroughly, ensuring that all terms and conditions are clear and satisfactory. Once you're confident with your choice, sign the contract and get started with the software.
Nonprofit CRM Implementation and Training
Ensuring proper training and onboarding for your staff is a crucial step in successful CRM implementation. To maximize the potential of your new database, be sure to invest in comprehensive training for all users.
From the start, it's important to establish and maintain standardized data procedures. For example, you may find that certain information, such as email addresses and online giving transactions, are automatically logged into your CRM system. However, other data, like phone calls and face-to-face meetings, might need to be entered manually.
Setting guidelines for data sources and minimizing task overlap can help ensure that the data entered into the CRM is accurate and consistent. By providing clear instructions on how to input data and manage records, you can avoid duplication, errors, and inconsistencies that may hinder the effectiveness of your donor database.
You'll also need to set up integrations between your CRM and any other software systems you use. These connections can streamline data exchange and automate processes, but they typically require independent setup. And depending on the ease of integration, you may need to consult an outside expert to do so.
(Double the Donation has an excellent support team that can assist in getting 360MatchPro connected to your new CRM! Contact us here to learn more.) 
Ultimately, a smooth transition from your existing systems to the chosen CRM is essential to minimize disruptions and ensure data integrity. Though you can surely expect a learning curve as you adopt the new system, proper training and onboarding can go a long way⁠—setting your team up for significant returns on your software investment.
Maximizing Your New Nonprofit CRM | Smart Tips
Once you're up and running with your donor management software, use these tips to elevate your engagement efforts. With a powerful CRM at your fingertips, you'll be well-equipped to maximize your nonprofit's impact and forge stronger connections with supporters.
Take your fundraising and outreach strategies to the next level by incorporating the following recommended practices.
1. Collect as much supporter information as possible.
The more you know about your donors, the better you can connect with them and the more you can grow your relationship beyond the surface level. Therefore, it helps to use your nonprofit CRM to collect and store a wealth of information about each individual engaged with your organization.
This might include⁠—but is certainly not limited to:
Name (full and preferred)
Contact information (address, phone number, email, social media)
Birthdate
Giving history (donation amounts, frequency, date of last donation)
Preferred communication channel (email, phone, mail)
Engagement level (donating, volunteering, fundraising, attending events)
Preferred giving methods (online, check, stock donation)
Employer information (company name, position, workplace giving eligibility)
Relationship status (single, married, family)
Demographic information (gender, age, ethnicity)
Preferred acknowledgment method (private gratitude, public recognition)
Communication preferences (frequency of contact, content preferences)
Source of donation (event, campaign, online, direct mail)
Once you have this information⁠—or as much of it as you can for each donor⁠—you can use your CRM to segment supporter outreach accordingly. Even something as simple as addressing the individual by name in your next marketing campaign can go a long way. In fact, studies reported that including the recipient's name in an email subject line significantly drove up open and click rates while reducing unsubscribes!
2. Use your CRM to drive more matching gifts to completion.
Speaking of donor data, one of the most essential pieces of information in your database involves knowing where your supporters work. Not only can this detail help uncover prospective corporate partners with which you already have a contact in common, but it can also empower your team with company-specific workplace giving insights.
For example, when you collect employment information in your nonprofit CRM, you can then screen for donors who work for companies that match team members' charitable gifts. This allows donors to stretch their dollars even farther for your cause, ultimately producing greater fundraising impact and strengthening relationships overall.
In order to streamline the processes involved with identifying, researching, and following up with each opportunity, connecting your donor management system with an integrable matching gift software is a must.
3. Maintain a clean and organized donor database.
Maintaining a clean, healthy, and organized nonprofit CRM is essential to make the most out of your new system. Here are some key strategies that can help a nonprofit achieve this goal:
Regularly conduct data hygiene practices, eliminating duplicate records and outdated information when possible.
Establish clear data entry and management procedures to ensure consistency and accuracy. Standardization is key!
Encourage staff members to review and update CRM records regularly.
Provide ongoing training and support to keep staff members updated with software features and best practices.
By following these steps, your nonprofit can ensure that the CRM remains a valuable tool, powering smart data management and driving operational efficiency for years to come.
4. Track and analyze fundraising KPIs using CRM reporting capabilities.
Tracking and analyzing fundraising KPIs⁠—or key performance indicators⁠—using CRM reporting capabilities is vital for nonprofits looking to continuously improve their efforts.
To begin, identify relevant KPIs aligned with your organization's specific goals. This might include:
From there, analyze the reports for trends and areas of improvement, comparing KPIs over time or across campaigns. Use the findings to make data-driven decisions, adjust strategies, and track progress toward objectives.
(Hint: Many CRMs offer robust visual reporting tools which can be particularly useful for communicating fundraising impact with ease.)
5. Keep an eye out for continuously developing features and improvements.
Technology is constantly evolving, and your nonprofit CRM is likely no different. Thus, you'll want to be on the lookout for any new features and functionalities your provider may begin to offer. This will allow you to leverage the latest tools to enhance your nonprofit's operations and overall effectiveness.
Whether it's improved automation capabilities, advanced analytics, enhanced integration options, or cutting-edge AI functionality, embracing new CRM features empowers your nonprofit to stay competitive, streamline processes, and remain at the forefront of the ever-changing nonprofit landscape.
---
Wrapping Up + Final Thoughts
Nonprofit CRM software is crucial for organizations aiming to optimize their fundraising efforts and build strong relationships with donors. By walking through each of the steps in the buying process above, your team should have everything you need to weigh the key features, benefits, and considerations of a donor management system.
Remember: the right CRM will empower your organization to streamline operations, personalize donor interactions, and drive long-term fundraising success. It's an investment that goes a long way.
Keep learning and building out your nonprofit tech stack. Check out other types of fundraising tools an organization may need: